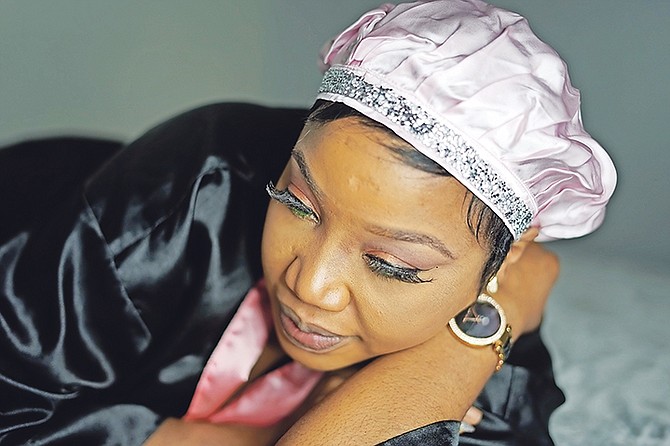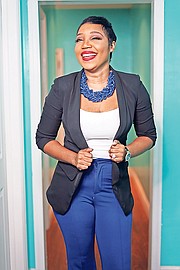 By ALESHA CADET
Tribune Features Reporter
acadet@tribunemedia.net
Nighttime hair care is about to get fabulous if Iyeasha Storr-Williams has anything to say about it. A veteran of the local beauty industry, she is has used her imaginative techniques and hard work to build a reputation for being able to fulfil any client's wishes. And now the nail technician of 20 years is taking her famed creativity and applying it to a wholly new business venture - fancy sleeping apparel.
As an employee at Pearla Rosa Spa on Madeira Street, Iyeasha has not only sought to achieve optimum client satisfaction, she has also nurtured her passion for all things beauty.
"I would say I am more than just a nail tech. I do more than just service my clients when it comes to their nails; I consider myself to be a listener, a psychiatrist and a friend," said Iyeasha.
"I am just a 38-year-old who wants to make a difference in the beauty industry. The way that I carry myself, I get a lot of people asking me for advice regarding my clothing and style. So I said to myself, why not make a difference and start something that has not been done here before to add to the beauty industry."
That quest for something new resulted in her founding her own company, Bedtime Beauty. The brand's first product, the 'blinged bonnet', has so far exceeded expectations.
"I was inspired by another young lady in the United States so I wanted to introduce the idea here because there are so many business ventures Bahamian women can take on. The sky is the limit and you shouldn't keep yourself in a box because others are doing something you want to do I believe Bedtime Beauty can work in the Bahamas. The feedback is pretty good, all positive," said Iyeasha.
She is certain that her 'blinged bonnets' are going to make nighttime routines "more appealing, sexy and classy." She envisions the caps being worn at sleepover parties or by bridal parties.
"With bonnets it is all about protecting our hairstyles while we sleep. There is a stigma that some of our significant others don't like (those) satin cap cover-ups at night, so Bedtime Beauty is all about changing that and keeping it cute. The company will grow to add bedtime apparel," she said.
For Iyeasha, the hardest part of getting to where she is today was remaining positive and not allowing negativity in life. "I am a positive person and I try to stay that way at all times with persons, especially for my clients," she said.
Iyeasha enjoys the fact that in the beauty industry things are always evolving.
"There are always new ideas that are coming into play and it just keeps on going. Apart from the financial benefits, in the beauty industry you get to uplift persons and help them elevate what's already inside of each client," she said.
Her advice for young Bahamian women seeking to achieve financial stability is to explore entrepreneurship, "as everyone isn't fortunate enough to become lawyers and doctors."
"Entrepreneurship doesn't come with a label; it is open for anyone who is determined to make an idea a reality with the right backing and willpower. It is very important that you try to find something that you enjoy, even if it is small, because every successful business starts small. It is OK to dream big, but you have to creep before you can walk; eventually you will move forward," said Iyeasha.
For more information, check out Bedtime Beauty on Facebook or call 425-0133.