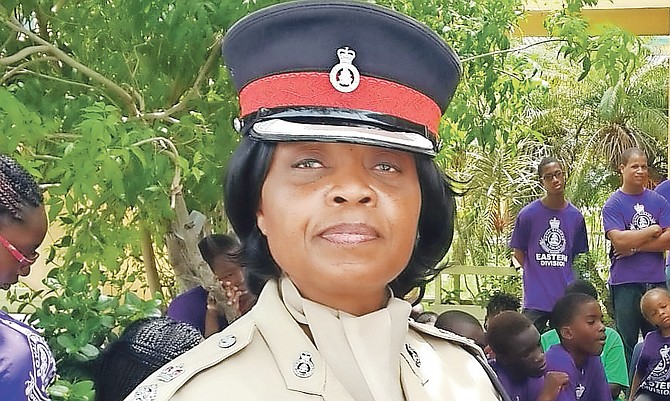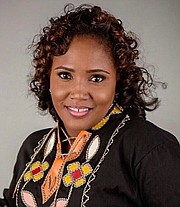 By FELICITY INGRAHAM
Why do we hurt the ones we say we love? I believe somewhere in our hearts and minds when we hurt others, it's because we were not loving ourselves. The love we say we have for others must be felt within the very core of our being. Once safe and secure in our own personal love, then we can have healthy, loving relationships that edify us rather than destroy us.
In love, passion should create something positive and edifying in the relationship. Passion should not be seen as an acceptable reason for violence against a partner. However, more than 1,200 people become victims of domestic violence each year in The Bahamas and many people still say, "That's man and woman business". But when children are seeing this violence in the home, and when spousal violence turns deadly, we must start making it our business.
Elaine Sands has seen this first-hand for decades. No matter how many times she was called to visit a murder scene, it felt the same every time – chilling… jarring… heartbreaking.
"I visited the (murder) scenes and listened to the cry of family members," she shared.
"I don't want to hear the cry of another mother, brother or sister… family members who come to the scene of a murder. It's heartbreaking, especially when you see the children of the victims. It's traumatic. Nobody wins. One parent dies and the other is sent to prison.
"Regardless of who it is, their children don't get the same attention anymore when both parents are gone. Extended family members do their best but it is still hard for the children. Who is coming to the school when they get an award? Who will take them for ice cream or a special treat? I have seen so many disturbed children and these traumatic incidents put them at risk of becoming a perpetrator or a victim in the future."
For 40 years, Elaine served as an officer of the Royal Bahamas Police Force and moved up the ranks from Constable to Superintendent. She was still a teenager when she took the oath to "serve and protect" the Bahamian public and has done so with distinction.
Under the command of former Commissioner Bernard K Bonamy, known as the "no-nonsense police chief", she was sent to the University of the West Indies, Jamaica to be trained specifically in Domestic Violence Intervention and Prevention. She went on to the Harrel Centre for the Study of Family Violence at the University of South Florida College of Public Health in Davie, Florida. Upon her return to The Bahamas, Commissioner Paul Farquharson was in charge and with his support, she gathered a team and opened the Domestic Violence Unit of the RBPF in the Community Policing Division.

"As a commander, I had to visit all of those murder scenes related to domestic violence and I had to respond to the matters in my area," she said.
"I started to zero in on matters pertaining to domestic violence. Even when I was sent out to command those divisions, that was one of the most important aspects of my role. I noticed how it was affecting families. The physical and emotional violence was sometimes escalating up to murder. So I continued to push hard, working with not only the victims, but also the perpetrators.
"With victims, I would look closely at their matters, taking each case seriously, whether it was a male and female perpetrator. I engaged my fellow officers to take the matter seriously. I would refer the victims to different agencies to assist with problem solving, securing lodging if necessary because of threats of harm, seeking psychological help for them and just making sure they were safe."
"If we were called to a scene that had not escalated to violence, we would try to intervene, listening to perpetrators. A lot of man hours are put into these matters. It's important to try to have understanding for their point of view, show empathy and make them understand the consequence of actions.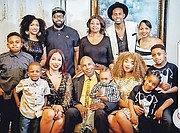 "I wanted to hear their problem - what is causing this matter what could be done to change their whole attitude in the relationship? There's a number of factors that contribute. Controlling behaviour for example – the perpetrator wants to totally control the victim. What you wearing, where you go, who you talk to. Sometimes the problems stem from lack of finances, or the ego. In some cases, both parties are competing against each other; like a competition between them - no one wants to take the high road and listen to one another and talk it out and not in a hostile way."
Elaine gained vital skills and devoted her entire career to helping stem the tide of domestic violence in the country. She kept an oath to protect and serve and took it to another level. She has a big heart and shares it with every victim, or potential victim of domestic violence, organizing countless prevention seminars over the years.
I had the pleasure of first meeting Elaine at one of these seminars. I was, at the time, reporting for ZNS news. I was so moved by the passion with which the-Inspector Sands spoke to victims, potential victims and others that I felt compelled to take her telephone number. That led to a close camaraderie as she knew she could count on me to make sure her messages of violence prevention got to the masses.
As we grew closer, she heard of my personal testimony of having been a victim in the past and moved immediately to have me become a part of her campaigns against domestic violence. I attended several of those seminars to share my story of how I overcame these challenges and completely changed the course of my life by taking back my power. Elaine always encouraged me and it gave me the courage to continue to share my story with others and show them a path to a brighter future.

Elaine is now retired but has no intention of letting up - as long as there are still volatile situations out there and people who are standing by and doing nothing about it. Yesterday Elaine took her first publication "Seven Tips to Enlighten & Empower Those Living in Abusive Relationships" to Government House. There, she gave Dame Marguerite Pindling the very first copy.

The purpose of the book is to: "Firstly, identify the abuse and secondly, to blow the whistle on the perpetrator of the abuse. It's to advise victims that violence in a relationship is unacceptable and criminal; blaming oneself for the violence is a fallacy, and the victim's behaviour does not justify acts of violence."
The booklet looks at understanding the feelings involved; partner "let down"; the signs of an abusive relationship; threatening and violent behaviour; controlling behaviour; and protecting the moments that matter the most. The booklet provides the pertinent areas of law on domestic violence at your fingertips, with a layout of exactly what to do to seek help if you are in an abusive relationship. It also gives Biblical references of "spiritual guidance for refuge" and "spiritual guidance for self love".
"Abuse does not have a particular profile – anyone can be a victim," she said.
"No relationship is perfect and so when you open your heart to love, open your heart for disappointment, differing opinions and mistakes. Exercise restraint from physical abuse as there will be 'partner let down'. Empowerment comes when you identify the abuse, value your life and decide to break the silence."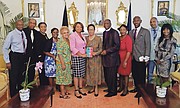 Elaine seemed destined to a life of discipline and service to others. Although she was born in New Providence to the Rosanna Munnings, a long-time worker in the hospitality industry, she was soon sent to Cat Island and was raised by her aunt and uncle for several years.
Leon and Lucinda Bannister were devout members of the Seventh Day Adventist church in Bennet's Harbour, Cat Island, where Leon served as a Constable. With this great example of a healthy relationship, Elaine flourished, although life was strict. They would have to attend morning masses at 5am before going to school and spent Friday nights and Sabbath in church also.
From the loving hands of the Bannisters, Elaine was returned to Nassau to the care of her father, Edmund Lewis Sr and his sisters – a big family of Androsians filled with the good ole' island training that she feels could help save the nation's families today. With her father also serving as an officer in the capital, it seemed these two great role models that helped mould her life led her to follow the same path and become a police officer.
But Elaine has always been more than that. She is a great mother and wife. She and her husband, Leevan Sands Sr, have four children and 36 years of marriage to be proud of. Olympic medallist, triple jumper Leevan "Superman" Sands calls this couple "mom" and "dad". So does former Miss Earth Bahamas Vandia Sands, who in representing the Bahamas at the international competition in the Philippines in 2013, won best costume. Meanwhile, the Sands' son Deangelo recently graduated from university and their daughter Bria is performing well in her tertiary studies.
As Elaine prepares for this new course in her life, she called together key players in the national campaign against domestic violence to celebrate with her as she presented the first copy of her book at Government House. Dame Marguerite, she noted, was keenly interested in the subject and sat and listened to them for half an hour, giving sound advice and encouraging them in their endeavours. Those key players included: Bishop Arnold Josey for the National Child Protection Council; Dr Novia Carter of the Ministry of Education's School Psychological Services Section (who wrote the foreword of the booklet); Dr Sandra Dean-Patterson of the Crisis Centre; and Pastor Peter Joseph of the Centerville Seventh Day Adventist Church, of which Elaine is a member.
The paperback booklet can be found on Amazon at a cost of $12. You may reach Elaine Sands at lousands9@hotmail.com.