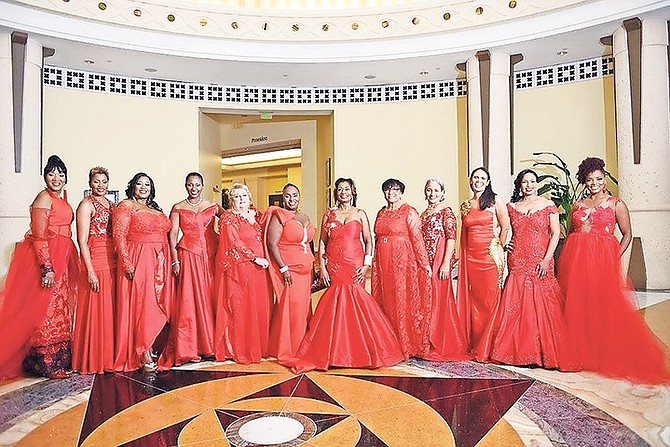 Nominations for the fourth bi-annual Red Dress Soirée are now open. The Red Dress Soirée honours women leading the way in national development and community building. Submissions are accepted exclusively at www.reddressbahamas.com. The entry deadline is June 30, 2018.
"There are countless Bahamian women who deserve to be celebrated for the selfless work they do to better the lives of others," said Tyrina Neely, founder and executive director of the Red Dress Soirée. "We invite the public to nominate any woman they feel is exceptional; whether she is a teacher, a lawyer, a stay at home mom, whether she lives in New Providence or one of the Family Islands."
Thirty-six leading ladies have been honoured since the event's inception. People may nominate more than one leading lady.
An independent selection committee of past leading ladies will select the 2018 honorees from the pool of nominees. The selection committee will choose winners primarily on the basis of the narrative submitted on the nomination form. Persons are encouraged to be as detailed and thorough in their nomination as possible.
The 12 selected leading ladies will be announced in August. At the Red Dress Soirée, which will be held Saturday, October 13, each leading lady will grace the runway in a haute couture red gown created by a Bahamian designer.
"It was an amazing experience and for such a worthy cause," said 2016 leading lady C Kim Gibson who wore an off-the-shoulder gown designed by Patrice Lockhart.
The Red Dress Soirée not only honours exceptional Bahamian women, but also celebrates Bahamian creatives. The event has raised more than $53,000 for local charities that benefit children in need since its inception in 2012.
This year, 100 per cent of the event's proceeds will benefit REACH Bahamas.
"We are immensely grateful to work with the Red Dress Soirée this year. Not only is the event really fun, but it celebrates the best in Bahamian women and so many women deserve to be recognised for the work they do to help build the community," said Dwayne Gibson, chairman of REACH Bahamas.
"Our organisation, on a daily basis witnesses the strength of mothers with special needs children working to provide every opportunity for their children who are affected by autism to live a healthy, happy and productive life. To partner with the Red Dress Soirée to support the autistic community is phenomenal and we believe in this cause."
The event, said organises, will feature world-class entertainment, a cocktail reception and an expertly curated silent auction.
"We are committed to empowering and unifying women while helping to create a brighter future for children who are in need the most in our community," said Ms Neely. "That is the core mission of the Red Dress Soirée. The fact that we are able to accomplish this through a really inspirational evening is just the icing on the cake."
For more information or to nominate a leading lady, visit www.reddressbahamas.com.