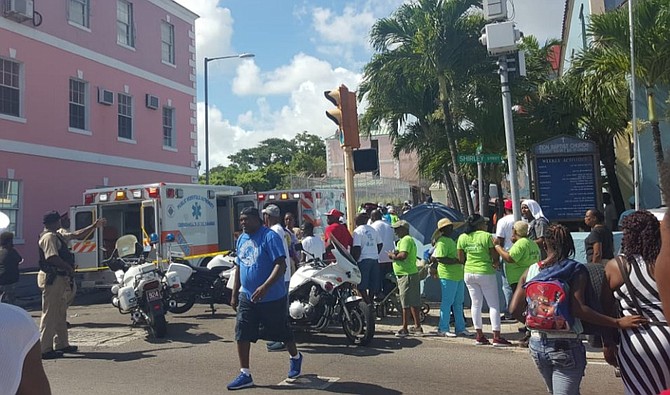 By Morgan Adderley
Tribune Staff Reporter
madderley@tribunemedia.net
LABOUR leaders are discussing removing flatbeds and trucks from future Sir Randol Fawkes Labour Day parades in light of last week's tragedy, Labour Minister Dion Folks said yesterday.
When asked by reporters about the request by union leaders to remove vehicles from future parades, Mr Foulkes said he has spoken with union presidents and the family of Sir Randol on the matter.
He added the type of music played at the parade is also under consideration.
"I have spoken to both the president of the TUC (Trade Union Congress) and the NCTUB (National Congress of Trade Unions Bahamas)," Mr Foulkes said.
"I have also (had) communication with the Fawkes family through Ms Rosalie Fawkes, who represents (them). We are reviewing the whole process and the content of the parade. As a result of the tragedy that occurred on Friday, the union leaders and executives and indeed the entire nation, we're very concerned about how the parade has been transformed into what it is today.
"And there is a strong feeling among the labour leaders that maybe we need to go back to how it was in the past, with not so many big flatbeds and trucks and the type of music.
"But that is something that they will have to decide. It is their parade and I respect that. The Fawkes family is playing a major role in terms of advising us in terms of what to do. And of course I will consult my colleagues to get their views also."
The annual Labour Day Parade turned to tragedy when a truck struck a crowd of people Friday morning, leaving four women dead and more than two dozen people injured. Police said the incident happened shortly after the driver exited the truck leaving four passengers inside.