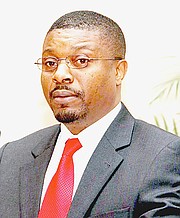 By RASHAD ROLLE
Tribune Staff Reporter
rrolle@tribunemedia.net
FORMER Minister of State for Finance Zhivargo Laing defended the fiscal performance of past Free National Movement administrations yesterday, knocking the Minnis administration's narrative that its current fiscal consolidation measures are necessary to address years of fiscal mismanagement in the country.
When rationalising their intended increase of value added tax to 12 percent, government ministers have blamed "successive administrations" for problems the country now faces.
Mr Laing, a member of two FNM administrations, stressed on his Guardian 96.9FM show yesterday that past FNM governments kept deficits low without major tax hikes, except during the 2007 to 2012 period when spending was deliberately increased in response to the 2008 Great Recession.
"I have to say on the face of it my first observation about the budget context and framing is that it is not in keeping with the facts," Mr Laing said.
Deputy Prime Minister and Minister of Finance Peter Turnquest has accused "governments before" of presenting "misleading budgets" with "hidden obligations," although Mr Turnquest has never specifically accused previous FNM administrations of this behaviour. Nonetheless, Mr Laing said at no time has a government he was a part of underreported obligations.
From 1993 to 2001, he said, "the debt to GDP ratio never exceeded 42 or so percent, never got close to 50 percent in that period." In the last two fiscal years of that period, he said the government ran a surplus on the recurrent expenditure accounts, a rare feat.
"Our debt to GDP ratio never arose to the level of 50 percent until the Great Recession, the most deteriorated period since the Great Depression," he added.
"In that entire period of GFS deficits of an average of 1.2 percent, the government of The Bahamas had no value added tax, never introduced a new tax. In fact it was the pride of the minister of finance at the time to be able to stand up in the House of Assembly and say 'I'm happy to say that this budget has no new taxes or increases in taxes' and everyone would beat on their desks in Parliament in great jubilation because that was the case.
"In that period of time, all the Family Islands, many were electrified, were provided with water, many schools were built, many upgrades to clinics were done, police officers got salary increases, civil servants got salary increases…in all that period of time those things happened without any new taxes, without any increases in taxes and with substantially low GFS deficits. So I am left to wonder what period in all of that represented fiscal mismanagement.
"I think it is important to have a context that's rooted in the facts of our history and I suggest to those that would put that there was this extensive periods of mismanagement that nothing could be further from the truth."