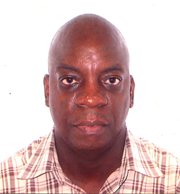 By BRENT STUBBS
bstubbs@tribunemedia.net
OVER the weekend, the Bahamas' super quartet of Baker Newman, Philip Major Jr, Jody Turnquest and player captain Marvin Rolle returned home, having accomplished their ultimate goal of advancing from American Zone III to Zone II for 2019.
It was another remarkable performance for the Bahamas Lawn Tennis Association as they saw the team go through the week-long tournament having not lost any of the five matches they played, including the clincher in the playoffs.
While Newman played as the top seed, he wasn't as sharp as he had expected and in each match, Major Jr stepped up and played exceptionally well as the giant killer, winning all of his matches to get the ball rolling each day.
And to add to his measure, Major Jr also teamed up with Rolle to form a formidable doubles team that was just as successful whenever they took to the courts.
When they didn't play, Rolle hooked up with Turnquest, the newcomer on the team, who also got his feet wet in a singles match.
By virtue of knocking off host Costa Rica in the playoffs, the Bahamas has earned the rights to be promoted along with Paraguay to Zone II again for next year.
Although it's a long way to go, newly elected president Darnette Weir said it's their hope, with the support of corporate Bahamas, to give the players a lot more exposure by getting them to compete in tournaments overseas.
No doubt the promotion to Zone II means that the players will have to be better prepared because the challenge will be greater as the Bahamas works toward getting promoted to Zone I again.
The Bahamas, now ranked at No.99 in the world, last played in Zone II last year when the team of Spencer Newman, Major Jr, Justin Lunn and Rolle lost 4-1 to Bolivia to get demoted to Zone III this year.
With the Newman brothers making their debut in 2016 with Kevin Major Jr and Rolle, the Bahamas advanced from Zone III to Zone II for 2017. So while the Bahamas has had to go through a see-saw ordeal between Zone II and III, it's time to get back to zone one where we can host a home-and-away series as we did with players such as Mark Knowles, Roger Smith, John Farrington, Mark Merklein, Sean Cartwright and Devin Mullings, just to name a few, captained by John Antonas.
The differences, however, was the fact that when we did, most of the players benefitted from having performed at the international level in various tournaments.
While we commend this crop of players, who are now taking the leadership role, it's going to be incumbent upon them to get some more individual exposure to compete at the next Davis Cup level.
On Saturday, the BLTA will recognise the quartet of Baker Newman, Philip Major Jr, Jody Turnquest and Marvin Rolle for their remarkable performances in Costa Rica.
It's an honour that is well deserving.