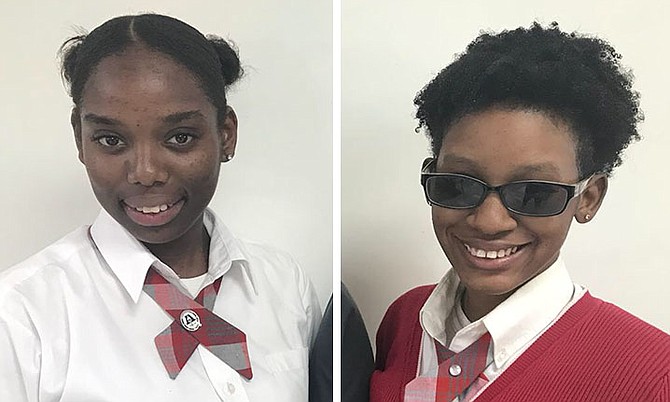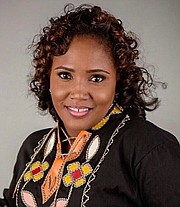 By FELICITY INGRAHAM
WHEN looking for solutions to the problems that face this country, we often look to our religious, political and social leaders for the answers. We look for grown-up solutions to problems that are affecting children as well. But what if some of the answers we need could be found in the children?
When I sat face to face with two aspiring scientists with a passion for solving problems in their country, I realised that children may have more great ideas for the solutions than we think. If we invest in their dreams and fuel their passions while they are young, the country stands to benefit in ways that would create a brighter future for us all.
When Maxanna Lloyd and Carmetta Barry signed up for the science competition at their school, CR Walker Senior High, they had no idea that they would learn so much vital information that could help their fellow Bahamians in the process. They are both 16 years old, 11th grade students, they both aspire to work in the health and science fields, and they both love to research and explore.
The school competition literally changed their lives. They found practical ways to help loved ones, the community and country by taking a closer look at some of the problems we have. Their determination throughout the months-long competition not only ended in them becoming the first and second place winners respectively, it is also affording them the opportunity to travel to the Island School in Eleuthera this summer and become immersed in a field they love.
Maxanna won the competition with a thorough research project on the local water pumps. She wanted to do something different with her experiments – something she felt would help the community.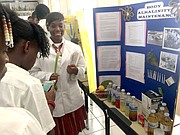 "There are many people who use the community water pumps because there is no water supply in their house," Maxanna explained.
"Usually when I pass the water pumps in the inner city, I would see pests and other animals in the area. I would also see tracks of mildew and mould on the walls of the pump, and the faucet may look rusty or have corrosion on it. So I became very interested and I wanted to investigate more about it. My experiment was about investigating possible contaminants and the high risk of the residents being sick or catching diseases. I also wanted to see if there was a proper water drainage system."
Maxanna said she collected water samples and took them to a laboratory, and she carried out swabbing and microbiological testing on the pumps.
"My findings were that inside the nozzle, there was rust, mould and mildew; but that study was inconclusive. I took the water into the Water and Sewerage Corporation's lab to be tested and we found that there was possible e-coli or coliform growing in the samples. I found out from residents after a survey, that there were strong scents of urine in the area. The pumps are extremely close to the road and someone in the area that I canvassed had been knocked down three months earlier while collecting water. Also, the nozzle was slack. Pulling down the nozzle could cause contamination of the water being collected from unsanitary hands pulling the nozzle."
She gave this advice to the entities responsible for the water pumps: "The water pumps are not fully protected and there should be major changes made to the drainage system. Someone from the Ministry of Environmental Health should also check the pumps regularly and sanitise them."
Meanwhile, Carmetta also took a look at how she could help her community from a health standpoint. With more than half of illness-related deaths being caused by non-communicable diseases, Carmetta decided to undergo a body alkalinity maintenance research project. She chose this topic because she would see persons with water bottles infused with lemon or fruit, and when she asked, they would say because it is alkaline. She therefore wanted to find out if this was a true statement.
"The body's blood alkalinity should be at 7.3 to 7.4, and any reading above or below this could be dangerous for the body, so I researched foods that would give the body this state of alkalinity," Carmetta explained.
"I put fruits and citrus like lemons and strawberries and saturated them in water for 12 hours. I tested the pH of the water tested and found that it was on the acidic side, ranging from four to six. But I did further research. I used a process to burn it and mix it with water to simulate digestion in the body, and it showed me that these acidic fruits become alkaline through digestion. So they actually are good for you."
"I then tested fried chicken. Before going into the body, it was alkaline. But when we simulated digestion, we found that it was acidic with a pH of five to six. From all the research I did, I found that good foods (like fruits and vegetables) may be acidic before taking them in but digestion makes it alkaline to help you maintain an internal alkaline environment."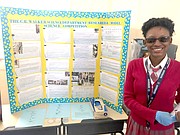 Carmetta said that too often, Bahamians blame issues like high blood pressure, cancer and heart disease on all sorts of factors, but still don't change their eating habits.
"If we eat healthier and cut down on fast food and junk food, we would decrease the chances of getting these diseases," she advised.
Carmetta is now drinking water infused with fruit or lemon, and her favourite is raisin water. She tries to get family members to do the same, but sometimes they say they would take the water and put sugar in it, which she says is a "no, no".
"I live with my grandmother and she has high blood pressure, but she tells me the raisin water looks like urine," she shared.
Maxanna's research also led her to eat healthier, but she, too is teased for her change in diet – schoolmates laugh and say she is eating "bush" when she brings her salad to school. But she, too is determined to do something about it because her mother, like Carmetta's grandmother, suffers from high blood pressure.
Maxanna wants to become a cardiologist or blood pressure specialist, because non-communicable diseases are all too familiar in her life, from her family to others with whom she has come into contact.
Carmetta wants to become an environmental specialist or engineer so that she can help tackle an ever-growing landfill problem in New Providence.
CR Walker is a science magnet school, meaning that government school students in junior high interested in the field would consider this school, located directly behind Government House, as its first choice. There, biology and health teacher Sharnell J Cox and her department decided to host a science competition to get the students excited about science.
"Because we are a science magnet school, we are trying to get the students groomed to be mental science students, to improve their science ethics so they can naturally execute scientific skills," Sharnell said.
She added that the joys of science must be instilled from the primary school level, providing more practical experiments for children to engage in. She says that science is a part of every day life and by inspiring youngsters, more of them would be able to find solutions to the problems in their country with the use of science methodologies.
Maxanna and Carmetta are being rewarded for their efforts through the science competition. What began as a teacher reaching out to a company to assist in the science competition has turned into so much more. Sharnell had reached out to Anna Maria Roberts of Commonwealth Drugs and Medical Supplies (CDM Corporate Group) to see if they had any equipment or apparatus the students could use.
After seeing the end result of the competition, Anna Maria approached CDM's CEO Pedro Roberts about a grand idea to send the two winners to the Island School in Eleuthera for a summer immersion programme that she felt would really solidify their interest in science for a lifetime. He obliged, and the young scientists are excited to attend "a transformative educational semester and summer term" on the island of Eleuthera.
Island School states: "High school sophomores and juniors from around the world join our community to learn outside the walls of a classroom. With the campus and surrounding ocean as our laboratory and with help from our partners at the Cape Eleuthera Institute, we teach students how to live sustainably in the twenty-first century. Together, we engage in the process of inquiry in order to discover solutions to real world problems."
"We want to support them in the schools of sciences because that's what CDM's philosophy is, and we wanted to do this for these students as we celebrate our 27th anniversary," Ms Roberts explained.
"We want to provide opportunities and open many doors for deserving young people who may not usually be given such opportunities due to their circumstances."
With tuition taken care of, Carmetta and Maxanna are now seeking additional funds to take care of a few other essentials on the list, such as airfare. They have created sponsor sheets to request assistance from family, friends and the general public. Anyone wishing to assist these aspiring scientists could contact mroberts@commonwealthdrugs.com.