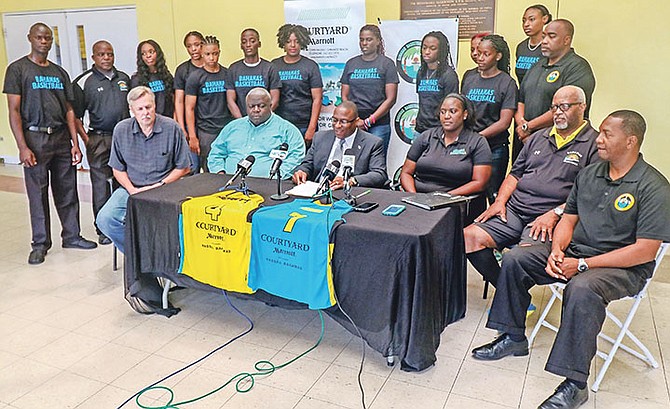 By BRENT STUBBS
Senior Sports Reporter
bstubbs@tribunemedia.net
WITH a combination of players from New Providence and Grand Bahama and a number of collegians, the Bahamas Basketball Federation has selected the team to represent the Bahamas at the Caribbean Basketball Confederation's FIBA Women's Caribbean Cup.
The team, headed by interim coach Wayde Watson, is scheduled to leave town on Wednesday for the tournament, scheduled for June 17-21 in Paramaribo, Suriname. They were announced to the media at a press conference on Monday in the foyer of the Kendal Isaacs Gymnasium.
The team is made up of Taniel Poitier, Valerie Nesbit, Joette Fernander, Brea Forbes (Grand Bahama), Arlia Greene (Grand Bahama), Tracy Lewis, Latoya Rolle, Ashley Moss, Britenique Harrison, Pamela Bethel, Taronya Wildgoose (Grand Bahama) and Shalonda Neely.
"I'm very comfortable with the make-up of the team," said Watson, who will be assisted by Varel Clarke-Davis and Anton Francis. "I think we have a group of ladies who have shown that they are truly committed to the Bahamas Basketball Federation and its basketball programme.
"I want to publicly applaud them and commend them for their effort that they have done because for someone who is considered a rigid task master when it comes to coaching, they have all responded very positively. So, at the end of the day, I think the make-up of the team is very good, the attitudes are very good and the commitment to the national team programme is very good."
Watson, who is filling in for women's national coach Yolett McPhee-McCuinn, who is unable to travel as she has taken on a new coaching job at Ole Mississippi University, commended his coaching staff and predicted that they "hope to be our best as we travel to Suriname for this Caribbean World Cup Qualifier."
Looking at the make-up of their team, Watson said they assembled a good core of youth and speed in the guards in the backcourt and they have a dynamic and experienced frontcourt of forwards and centres in Shalonda Neely, Britinique Harrison, Ashley Moss and Tracy Lewis.
Clarke-Davis, a former national team player, was a member of the last senior women's team that won the tournament two years ago as an assistant to McPhee-McCuinn. "We have a talented bunch of young ladies," Clarke-Davis said.
"Our goal is to come back with a medal. Over the past five weeks, these girls have been working very hard and we are confident that they will do very well."
Team Bahamas will play in Group A against Cuba at 4:30pm on Sunday, June 17 and the Virgin Islands on Monday at the same time.
The first and second place teams from Group A and B, comprised of Guyana, Barbados and Dominica, will advance to the semi-final playoff and final June 20-21.
The top three teams will qualify for the Centro Basket August 20-24 in Puerto Rico.
Minister of Youth, Sports and Culture Michael Pintard, thanking Courtyard Marriott for coming on board as a major sponsor, congratulated the ladies on making the team and the coaching staff.
"To the entire corporate Bahamas, the Bahamas Basketball Federation needs your support and we encourage you to come on board and partner with them," Pintard said.
He suggested one of the ways they can achieve this is by sponsoring our athletes as spokespersons for their products and they can look at some of the players who are a part of the national team.
As a corporate sponsor, Leon Lundy, the director of finance at Courtyard Marriott, said they are delighted to be able to assist the federation and they look forward to the team's success in Suriname.
And Steve Barnes, the technical director of Bahamas Basketball, commended the federation on the team selected and he indicated that he knows that they will perform very well.
• Here's a look at the players selected:
TEAM BAHAMAS
Taniel Poitier
Valerie Nesbit
Joette Fernander
Brea Forbes (Grand Bahama)
Arlia Greene (Grand Bahama)
Tracy Lewis
Latoya Rolle
Ashley Moss
Britenique Harrison
Pamela Bethel
Taronya Wildgoose (Grand Bahama)
Shalonda Neely
Head coach - Wayde Watson
1st assistant coach - Varel Davis
2nd assistant coach - Anton Francis
Manager - Lavardis Johnson
Trainer - George Burrows