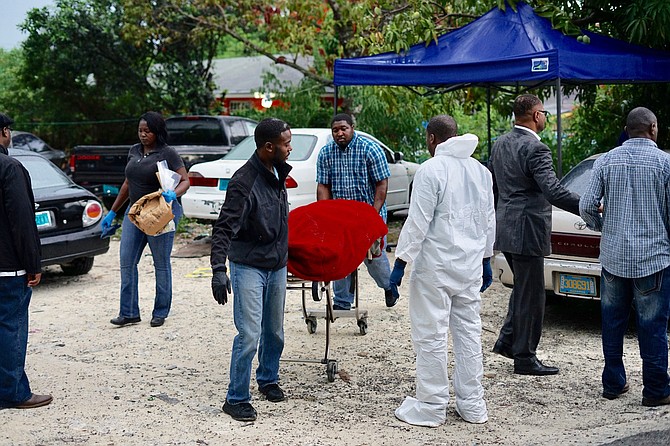 By RICARDO WELLS
Tribune Staff Reporter
rwells@tribunemedia.net
LESS than 24 hours after National Security Minister Marvin Dames insisted Bahamians have absolutely no reason to feel unsafe, police are appealing to the public for help in solving three more homicides which occurred in less than 24 hours.
The latest incident occurred just after 5pm at Cox Street in Fox Hill when a gunman from a silver-coloured car opened fire on a group sitting under a tent, wounding two men, one of whom died at the scene and the other is in hospital.
A few hours earlier, shortly after 4.30am, police said a security guard on duty at AF Adderley Junior High was accosted and then attacked by two armed assailants.
Police said at some point during this interaction, the security officer was shot in his body and died at the scene.
Police have identified the victim as 65-year-old Errol Williams.
At a press conference yesterday at police headquarters, Assistant Commissioner of Police Clayton Fernander said police suspect this incident started out as an armed robbery and escalated at some point.
In a post to Facebook, the victim's son-in-law, Michael Simmons, praised him as a "very soft spoken, kind hearted individual".
Mr Simmons said Williams would be missed by all those who knew and loved him.
In another incident, which occurred less than eight hours earlier in the Step Street area of Fox Hill, police said a man was shot dead a few yards from his home.
Police yesterday identified the victim as 36-year-old Anthony Brice.
ACP Fernander said officers suspect Brice was attacked by persons he knew.
According to witness accounts, ACP Fernander said the deceased talked with his killers for some time before he was shot as he walked away from the vehicle.
Police said they are investigating whether the two Fox Hill shootings are related.
Six people have been killed since Saturday.
On Monday, Mr Dames doubled down on the narrative of the Minnis administration winning its fight against crime.
He told reporters while the government has found some successes in the fight against crime - a more than 30 percent drop in murders along with overall crime trending downward by double digits – officials do not see this as a time to pat themselves on the back. However, he conceded that the most recent incidents and others prove there is still work to be done.
The latest killings pushed the murder count to 48 for the year.
Despite the spate of killings, murders are trending downwards compared to this time last year when more than 60 killings had already been recorded.
In reference to the killings in Fox Hill, police said they have increased patrols in the area.
Anyone with information on these shootings or any other crime is asked to call police at 502-9991 or the Crime Stoppers hotline at 328-TIPS.