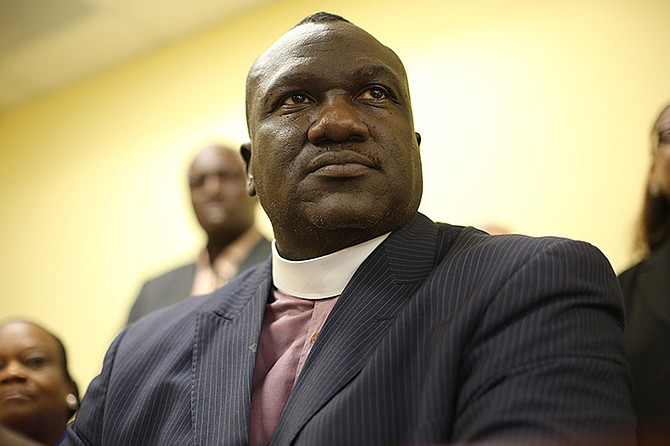 By Morgan Adderley
Tribune Staff Reporter
madderley@tribunemedia.net
IN the wake of the recent spate of violent crime, Bahamas Christian Council President Bishop Delton Fernander is calling for the return of a gun amnesty programme.
Through this initiative, which previously existed in various iterations, illegal weapons could be anonymously turned into designated pastors and churches.
The gun amnesty was in place temporarily during the last Christie administration.
Bishop Fernander also said this initiative was conducted in the past under former BCC President Simeon Hall.
"We're calling again, communicating with the government (for) gun amnesty, that (we can) get some of these guns off the street, whether we're getting them by finding them and locking up the persons, or by persons turning them in," Bishop Fernander said yesterday.
"Because there are some… good parents out there, who will find weapons in their house, and need some place to turn them in, without divulging who they are.
"We're going to volunteer some of our pastors and churches to be that place. Where they can come and give guns in and we can turn (them) into the powers that be."
Bishop Fernander added that he has personally had guns turned into him, and in turn gave those weapons to the police.
The BCC president added that specific churches would be designated for this purpose, as opposed to having "everybody" receiving weapons.
Bishop Fernander said clearance would have to be received from the government before the initiative can begin again.
"This is just me putting forward that we're willing to do that again," he said.
Since June 5, there have been nine fatal shootings, including the killing of seven-year-old Camron Cooper who was hit by a stray bullet just outside his home when he was on his way to school. On June 12, a shooting on Cox Street left one man dead and another in hospital.
Yesterday afternoon, police press liaison officer, Superintendent Shanta Knowles confirmed that the injured victim is still in critical condition.
In terms of the investigation, Supt Knowles said police have been working that area "all day." She added that police are still asking for public assistance in the matter.
Bishop Fernander also called for community involvement in the fight against crime.
"Unless we step up and truly become our neighbour's (keepers), this wave of crime will take us to a place where we will maybe become a police state where we will lack some of the liberties we have right now; if we don't become more community minded, more involved in what's going on in our society," he said.
"Crime is a symptom of a bigger problem, and it's through this engaging that we can maybe start combatting some of the social ills that we have."
He said BCC is part of the National Crime Watch Programme, with one of the BCC's vice-presidents sitting on the committee.
Bishop Fernander said he has seen "first-hand" that police have put out more manpower.
"But it is now time for us as a society, one of the things we hear, in particular the meeting I went to, is after events happen, people make mention: I saw this car pass three times, or it was suspicious in our neighbourhood," he said.
"If we can get involved with the crime watch and send this information out before a robbery takes place, before murders take place, we can do a better job of helping the police and even policing our communities."
The BCC president added that the council is praying for the families of crime victims.
To the public, he said: "We ought to be prayerful and cautious. Be aware of your surroundings, be aware of suspicious behaviour. And now is the time if you see something, say something."