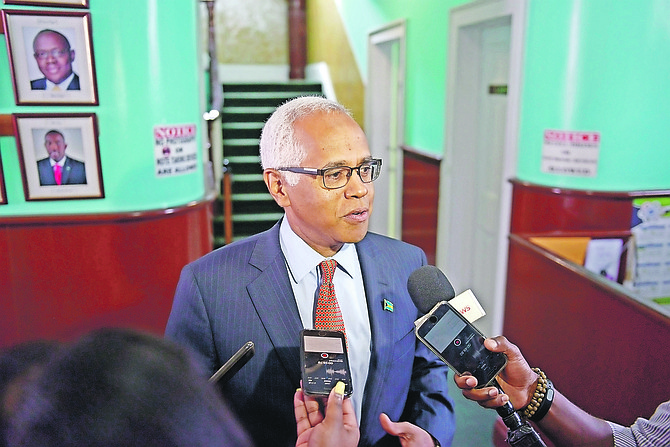 By RASHAD ROLLE
Tribune Staff Reporter
rrolle@tribunemedia.net
TOURISM and Aviation Minister Dionisio D'Aguilar said the government will be flexible with web shop taxes, adjusting its new sliding scale scheme if it proves too onerous.
His statement came during his speech as part of the budget debate in the House of Assembly last night.
He said the operations will experience a loss of profit initially.
"As the gaming house operators adjust their business model to accommodate this tax, they will quickly bounce back; bright guys," he said. "There is one cause for alarm and that is the claim by many of the gaming houses that a number of their customers may turn to the underground gaming market as a result of these new restrictions. I want to categorically say this government is populated with reasonable people. If this tax turns out to be too onerous and that in turn causes an undesirable outcome, we will adjust. Every year we are in office, we will look closely at this industry and ensure the Bahamian people are getting their fair share."
Mr D'Aguilar also compared the amount of money the seven web shop bosses have made over the years to what has been paid to their employees, highlighting the disparity as he called on the operators to remember how good the Bahamas has been to them before they decide to downsize their operations in response to increased taxation.
"The Bahamas and the Bahamian people have been very good to the operators of the gaming houses," he said. "I estimate that the seven owners of the gaming houses collectively earned a whopping $150 million over the last three years in salaries and profits… Over that same three years 2,800 persons that worked for these same seven gaming houses collectively have been paid just $96 million which if you do the math works out to be exactly $210 per week plus $9 per week in benefits. They all get minimum wage. So please, as you contemplate downsizing, remember that you've enjoyed many years of feast and if you must suffer from one year of famine in order for us to get to that sweet spot of the perfect level of taxation, we will remember any good deeds that you do."
Mr D'Aguilar sought to preempt criticism of the government in case some web shops go out of business in the next few years, saying trends suggest three web shops are already in a precarious state.
Those businesses, he said, "are either too small or have been increasingly losing market share over the past three years, so that unless something dramatic happens I expect them to begin to close locations, so when it happens I do not want the people to cry shame on the government."
He said digital technology means many physical locations of web shops will be reduced.
"I expect that in a few years the number of locations will be significantly less than where they are now as the number houses move more of their businesses online," he said. "Players will be able to sit at home, log on, transfer cash from their bank account into their gaming account, pay and transfer money back. Remember, just four or five years ago there were 635 locations and now we have 363. That downward trend is expected to continue."
For the next fiscal year, the government plans to introduce a sliding scale showing how web shops will be taxed. Under the scale, web shops will pay a 20 percent tax for up to $20m in revenue, 30 percent for revenue between $40 million and $60 million, 35 percent for revenue between $60m and $80m, 40 percent for revenue between $80 million and $100 million and a rate of 50 percent for revenue over $100 million. Mr D'Aguilar said only five percent of gaming house sales will fall into the latter category while half will fall into the first category.
He said with the new scale, the government is increasing its revenue intake from 11 percent to 28 percent of net gaming revenue. Bahamians, he said, spent $500 million in the gaming industry in 2017.