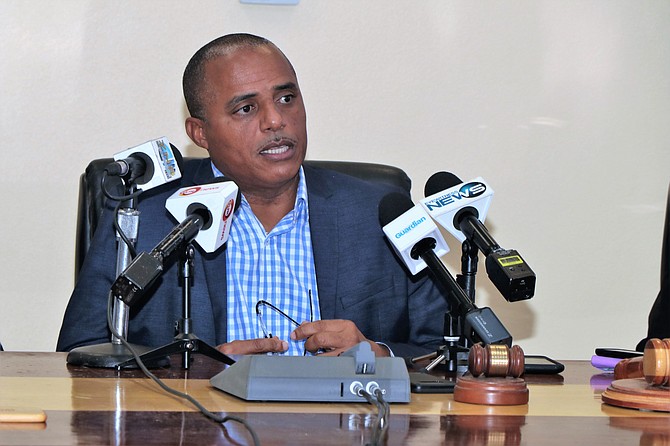 By RICARDO WELLS
Tribune Staff Reporter
rwells@tribunemedia.net
IN the face of a spate of murders, National Security Minister Marvin Dames yesterday announced a series of new crime fighting strategies geared towards the blanket coverage of specific hotspot areas in New Providence.
During a press conference held at police headquarters yesterday, Mr Dames announced the planned enrolment of some 105 new recruits, the roll out of a new crime reporting app, the long-awaited roll out of the Marco's Alert planned for this week, and the incorporation of new crime fighting equipment as a part of the 2018 budget cycle, including an updated fleet of squad cars valued at $6.9m.
Referring to the Royal Bahamas Police Force's recently published Manpower Audit, which noted that for every 100 officers recruited and deployed there should be a three percent decrease in crime statistics, Mr Dames contended that more personnel, paired with cutting-edge technology will be on display in the coming months. Mr Dames said working in tandem, law enforcement agencies are consistently making inroads to cut crime.
To date, he said there have been 51 homicides reported, compared to the same period last year when there were 70 – representing a 27 percent decrease.
Mr Dames insisted that while overall crime continues to decrease, police cannot take comfort in the fact that people are still losing their lives. He said: "We cannot sit back while murders occur as one life is one too many. The fight against crime and violence has to and will continue to be approached holistically."
Referring specifically to a string of murders that have occurred in the month of June, Mr Dames said he has instructed all agencies under his command to do all within their power to bring them to a close quickly.
There have been 12 homicides thus far in the month of June making it the deadliest month of the year, so far.
Since Saturday, three murders have been recorded.
According to police, two of the three occurred in suspected armed robbery scenarios.
Further to that, Mr Dames yesterday suggested that a large percentage of the homicides that have occurred across the country this year, have been committed by young assailants operating with the intent to spread fear across the wider Bahamian public.
His comments come almost a week after he reassured Bahamians that there was absolutely no reason for them to feel unsafe.
Last Monday, Mr Dames doubled down on the narrative of the Minnis administration winning its fight against crime. To that end, he asserted yesterday: "I want to issue a stern warning to parents of young men roaming our streets. We cannot have a society where young men are roaming our streets and taking out lives of hard-working Bahamians."
Mr Dames said the actions of this particular group of criminals "will not be tolerated."
"We will use every tool at our disposable under the law of the Commonwealth of the Bahamas, to ensure that every hardworking and law-abiding Bahamian is kept safe," he said. "If you choose to take on law enforcement with a firearm then there are consequences."
Mr Dames said without question, while officers will abide by the law, they will not allow innocent people to fall victim at the hands of "gun-toting thugs."
When asked by reporters if recent trends makes a case for the enforcement of capital punishment, Mr Dames said he has long been a supporter of plans for the country to execute the laws on its books, but admitted that he doesn't see a situation where that would happen.
Mr Dames insisted that on many levels, he has taken it upon himself to design and introduce strategies that both detect and prevent crimes more deliberately. However, he said members of the public now need to live up to their responsibilities and help police in their fight against crime.
He said: "We are extremely proud of the progress we are making, but takes you aback whenever people lose their lives, especially persons who were hard at work making ends meet for their families and it is never a good sign."
He continued: "So the two incidents, the incident (Sunday) morning and the incident on (Saturday night) you know, there are people out there who know what happen. Why should the police have to go and work so hard to find them, right, as Bahamians don't we have an obligation to say, 'Hey listen, the guy right around the corner, they were just talking, they killed that man last night.'
"Why should police through an investigative process have to put in a significant amount of man hours, not complaining, they are all up to it because of the progress that we are making, they are arresting these people, they are putting them before the court. But as Bahamians we have to live up to are obligation, we have to live up to our responsibility to protect the other.
"It is like seeing someone break into your neighbour's house and jumping into your vehicle and pretend like you didn't see it and drive off. We have to move away from that, " Mr Dames said. "We can not keep beating up on it being a police problem, a police problem. I met with them and I expressed some of the concerns that I have, some of the areas that I see where they can improve, now the commissioner and his team will have to go because they are responsible for the operation and the strategy outlay and they will have to go and address it."