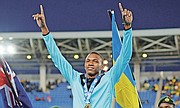 By BRENT STUBBS
Senior Sports Reporter
bstubbs@tribunemedia.net
WITH the focus on the IAAF World Junior Championships in Pampere, Finland, next month, sprinters Adrian Curry, Jaida Knowles and Joel Johnson led the performances as they attained the qualifying standards over the weekend at the Bahamas Association of Athletic Associations' Junior National Championships at the original Thomas A Robinson National Stadium.
On day one of the championships on Friday, Curry was the first to book his ticket to the World Jr Championships from July 10-15 when he clocked 10.56 seconds to win the under-20 boys' 100 metres. He matched the standard of 10.55 to post the fastest qualifying time before he came back in the final and finished just short of the mark in a winning time of 10.56.
On Saturday, as the championships came to a close, Miller and Johnson produced their qualifying standards in the under-20 women and men's 200m final.
Knowles, who fell short of the standard of 11.80 when she ended third in 12.15 behind collegian Sasha Wells (12.13) and Lakelle Kinteh (12.14), regained her composure and easily took the 200m in 24.10 to take the victory to dip under the half-lap standard of 24.20.
"It wasn't my best race of the season, but after seeing what happened last night, I was just happy that I was able to cross the line in the time that they wanted me so I'm happy that I was able to qualify for the World Junior Championships," Knowles said her performance.
The race was supposed to be a showdown with quarter-miler Megan Moss, But coming off the curve as she headed for the straight away, Moss pulled up and had to be assisted off the track.
"She stopped at the 100m. I was trying to get through my race, so I couldn't stop to see what happened to her," Knowles reflected, "I hope that she is okay,"
Knowles, a 16-year-old heading into grade 12 at St Augustine's College in September, said she was just delighted that she qualified and will get a chance to compete on a world stage.
Johnson, a graduate of SAC this year, clocked 20.87 to win the under-20 boys' 200m as he dipped under the qualifying standard of 21.35 to clinch his berth for the World Jr Championships. He easily won over Max Azor for second in 21.63 and Shaquel Higgs, who did 22.18 for third.
"Coming into the race, I felt a little relaxed, anxious, but I just stuck with what my coach told me, execute and come off the bend and go for it on the home stretch," Johnson said. "I felt very good about it. It tells me what shape I am in before I go to World Juniors. So I just want to stay focused, stay humble and get to low my time when I get there."
As he prepare for his participation in the World Juniors, Johnson said he "expect to do the same thing". That is to stay focused, make it through each round and hopefully he can come home with a medal.
Versatile Denvaughn Whymns, who is back after suffering an injury, cleared 7.15 metres or 23-feet, 5 1/2-inches to win the under-20 boys' long jump, but it wasn't enough. He needed to jump 7.55m (24-9 1/4) to qualify. Karon Dean was his nearest rival with a leap of 6.75m (22-1 3/4).
Whymns also contested the 110m hurdles where he placed second in 14.01. Oscar Smith won the race in 13.75. Jahmaal Wilson was third in 14.05. In the end, all three of them achieved the qualifying standard of 14.20.
Wells, who didn't qualify in the 100m, came back and won the girls 100m hurdles in 13.94 to also surpass the qualifying standard of 14.10.
Shaun Miller won the under-20 boys high jump with a leap of 2.10m (6-10 3/4), but it was short of the qualifying standard of 2.17m (7-1 1/2). Jyles Etienne came in second with 2.05m (6-8 3/4) and Benjamin Clarke got third with 2.00m (6-6 3/4).
On the girls side, Dejha Moss soared 1.65m (5-5), but she needed 1.82m (5-6) to qualify. Moss also won the long jump with a leap of 5.88m (19-3 1/2) with Lakelle Kinteh second with 5.57m (18-3 1/4) and Charisma Taylor was third with 5.53m (18-1 3/4). However, neither of them did the standard of 6.15m (20-2 1/4).
Taylor also competed in the triple jump, winning the girls' event with 12.69m (41-7 3/4). The qualifying standard was 12.85m. Amelia Peterson came in second with 11.61m (38-1 1/4).
In the girls under-20 100m hurdles, Wells won the race in 13.94 to dip under the qualifying standard of 14.10m. Indea Cartwright was a distant second in 15.24. Kimona Wilson was third in 15.31.
The two day meet featured a combined competition for the youth to junior divisions, inclusive of all ages from under nine to under 20.
A look at the top performances from all of the events are posted.