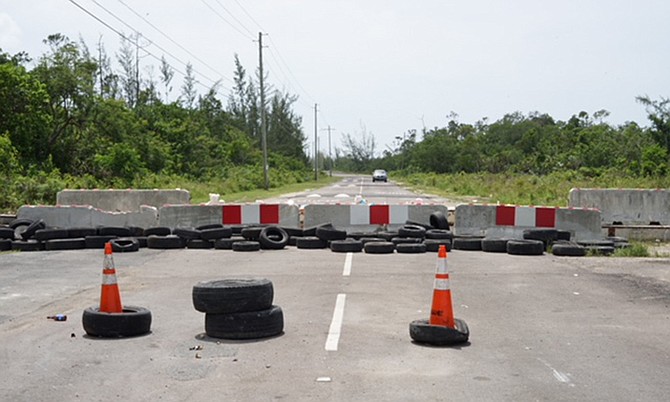 By FARRAH JOHNSON
OFFICIALS have erected speed bumps and placed reflectors on concrete beams at Munnings Road after a crash at the newly closed road left a woman dead.

Last week, Minister of Works Desmond Bannister pledged more precautions and safety measures will be implemented on Munnings Road to avoid future fatalities.
Mr Bannister said his ministry is going through the tender process for the construction of a cul-de-sac, but insisted residents should still be careful when using that road.
His comments follow an accident that led to the death of Garvanisha Anastasia Carey early Thursday morning.
In a recent interview with ZNS, Mr Bannister reiterated the cul-de-sac was in compliance with the law.
"I'm very, very sorry to see that the young lady lost her life," he said, "that's something that none of us would like to see – but the speed limit in that area is 25 mph, and it's important for all of us to appreciate that we have to obey these speed limits."
At the time, Mr Bannister revealed more warning signs and speed bumps would be added to the area to warn drivers of the road barriers.
He also stated that Prime Minister Dr Hubert Minnis, the area MP, had placed speed bumps in the area "many many times," only to have them "taken up".
"I can tell you that coming from the John F Kennedy Drive, as you come on from the airport gateway, if you come on to Munnings Road, before you get to that area where it's blocked off you have at least half a mile to a mile of clear vision," he said.
"So we're going to do some other things to ensure that persons who try to speed along that road, that they themselves would see. But still it is a very sad lesson that we're learning about road safety."
Carey was pronounced dead on the scene after her vehicle collided with the barriers.
Her death sparked outrage from many Bahamians who believed the accident could have been avoided if there was better signage and lighting in the area.
In April, the Ministry of Public Works advised it would be carrying out works on Munnings Road for one week regarding the intended closure, which is to become a cul-de-sac. The road was closed in the beginning of May.