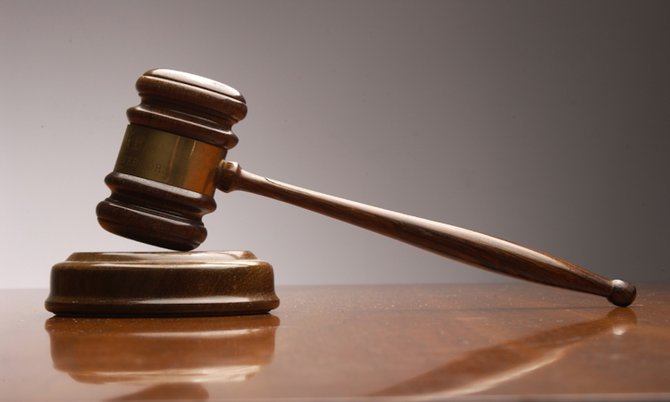 By NICO SCAVELLA
Tribune Staff Reporter
nscavella@tribunemedia.net
THE key witness in the murder trial into the killing of veteran trade unionist John Pinder's youngest son had two physical altercations with the older brother of the deceased about one month before the incident in question, Supreme Court jurors were told.
Evidence before Justice Bernard Turner showed how Crown witness Marco Delano Miller had two fights with Javon Pinder prior to John Pinder Jr's death, the first of which saw Mr Miller threaten to kill Javon Pinder, who in turn pursued and shot at him.
Meanwhile, Mr Pinder testified that Jamean Johnson, the man standing trial for his younger brother's death, is his friend and has been for eight to ten years, and would thus have no reason to harm him or his family.
Javon Pinder said while he was "cool" with Mr Miller at one point in time, they aren't so friendly any more.
And the deterioration of their friendship, Mr Pinder suggested, came after the two fights he had with the witness, the first of which saw Mr Miller allegedly throw rocks in his direction - one of which almost hit his mother, Margo Pinder. This resulted in Mr Pinder pursuing Mr Miller in and shooting at him.
About a month later, on August 29, 2016, Pinder Jr was shot and killed by unknown assailants in his Hillside Park home while playing video games with his older brother and several other male friends.
Pinder Jr, whom his brother said was seated just five feet away from him, was shot several times and pronounced dead at the scene. Kerrigan McCoy was also shot. He was rushed to hospital by ambulance and treated for his injuries.
Pinder Jr's mother said when she heard the shots, which she initially thought came from "fire crackers," she noticed her oldest son and the other boys running from the room that was shot up and towards her.
However, she noticed that her youngest son was not among them.
She said she then went to the room where they were all playing video games moments earlier, only to find her youngest child had been shot and "lying in a pool of blood."
Johnson is charged with abetting unknown persons to murder Pinder, also known as "Fats," and abetting unknown persons in their attempts at killing McCoy.
According to Mr Miller's testimony, he was sitting on his front porch at his home on Hillside Park off Jean Street, "chilling out," smoking and listening to music when he observed a red Explorer stop on the side of the Pinders' residence in front of a vacant lot.
According to Mr Miller, he lives about two houses down from the Pinder residence.
The witness said two men got out of the vehicle -- one from the front passenger seat and the other from the back passenger seat behind the driver, who remained in the vehicle. The two men, who had hoodies over their heads, went to the empty lot on the side of Mr Pinder's yard and went over the gate.
Mr Miller said when he saw that, he got up and turned off his porch light.
Shortly after that, Mr Miller said a man known in the area as "Rasta" came to him because the latter owed him $23.
Mr Miller said he was consequently able to observe the left side of the driver's face, saying he recognised the driver as "Debo," which is Johnson's nickname.
Mr Miller said shortly after Rasta gave him the $23, he asked the man if he saw anybody entering the Pinders' yard. Shortly after that, Mr Miller said he heard about four or five gunshots coming from the yard.
After that, Mr Miller said he told Rasta to stay with him for a little while, which the other man agreed to. However, Mr Miller said Rasta eventually left and went home, and he in turn went inside his house.
After that, Mr Miller said the corner was filled with police cars. As a result, he said he waited until the majority of them left before he went and spoke with Mr Pinder and told him what he saw and knew.
Miller said days later on the 30th, he was questioned by police, who came to his door making inquiries about the murder. Around 3.55pm on September 1, the witness said he identified Johnson in an identification parade at the Central Detective Unit. While there, he said he was also shown a number of vehicles, and identified Johnson's red car as the vehicle in question.
About a month prior to the incident, however, Mr Miller said he got into an argument with the elder of the Pinder brothers while visiting the Pinder residence. Mr Miller, in his evidence, intimated that Javon Pinder was "jealous" of him for some unknown reason.
Mr Miller said Javon Pinder went after him with two beer bottles and threw them at him. In response, Mr Miller said he picked up a rock and threw it at him. After that, Mr Miller said he spun around only to see Johnson, who then punched him in the face.
Mr Miller said Johnson wasn't there when the argument started, but said he came out of nowhere. Mr Miller said he subsequently ran around the corner into another yard.
Mr Miller said that's when Johnson's vehicle pulled up. Johnson was driving, while Javon Pinder was in the passenger seat. The elder Pinder brother then stuck his head and his hand out of the window and said, "This how I catch y'a'll p* n** sleeping."
Mr Miller said when he saw a gun, he broke off running, after which shots were fired in his direction.
He said he did not report the incident to the police.
However, he said the night after he got shot at, he met with Javon Pinder, who was hanging out with a bunch of other guys, fought him, and beat him up.
Meanwhile, Javon Pinder, who is the defence's witness, gave testimony that concurred with Mr Miller's, including Johnson's apparent involvement in the skirmish.
However, Javon Pinder maintained that the day following the first fight, Mr Miller pulled up on his scooter while he was standing up talking to his friends, and tried to "sneak attack" him with his scooter helmet.
Javon Pinder said after Miller tried to do so, the two got into a wrestling match and went to the floor. He maintained that he did not get beaten up.
Based on questions posed to him by Crown attorney Pintard, Javon Pinder said he did in fact shoot at Miller.
The matter continues.
David Cash represents the accused. Stephanie Pintard leads the prosecution in the matter.