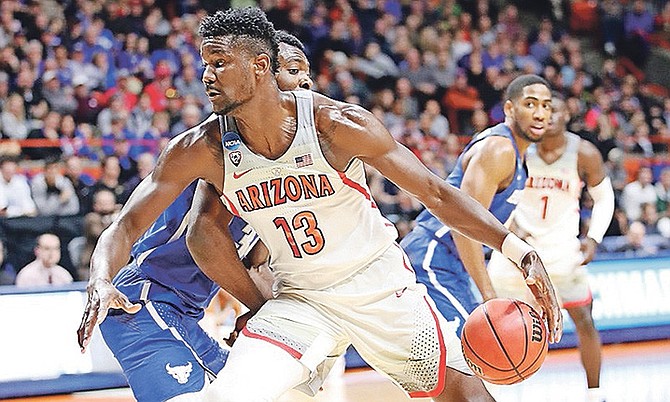 By BRENT STUBBS
Senior Sports Reporter
bstubbs@tribunemedia.net
MINISTER of Youth, Sports and Culture Michael Pintard, will head a Bahamian delegation to Brooklyn, New York for the National Basketball Association (NBA) 2018 Draft where Bahamian Deandre Ayton is expected to become the number one pick.
The draft will take place on Thursday at 7pm at the Barclays Center and will be carried live on ESPN.
If he gets selected by the Phoenix Suns, Ayton would become the second Bahamian taken as the first pick since Mychal 'Sweet Bells' Thompson became the first foreign-born player chosen by the Portland Trail Blazers in the 1978 draft.
Thompson, who played with the famed Miami Jackson's team before he went on to shine for the University of Minnesota, played for eight seasons with the Trail Blazers before he was San Antonio Spurs.
Then, after playing only a half season, he was traded to the Los Angeles Lakers in February, 1987 where he went on to win two consecutive NBA titles in 1987 and 1988.
If he doesn't go first, Bahamians are hoping that Ayton could end up with the Sacramento Kings where he could team up with Grand Bahamian Chavano 'Buddy' Hield.
Coming out of the University of Oklahoma as the Big 12 Conference Men's Player of the Year back-to-back in 2015 and 2016, Heild was selected with the sixth overall pick in the 2016 draft by the New Orleans Pelicans.
On February 20, 2017, Hield, 24, was traded to the Kings where he was named to the NBA All-Rookie First Team.
Mr Pintard said he's excited, just as every Bahamian is, for Ayton and his family as he embarks on a life changing experience.
"He is clearly one of those athletes, who constantly references the Bahamas, the 242, and so we are appreciative of him and we are committed to him as we do all other Bahamian athletes operating on the international circuit," Mr Pintard said as he headed for New York.
"We are cautiously optimistic that he would go number one, but we know that in many ways, he remembers the future of the league and we pray for good health for him and that his performance exceeds his own expectations. He represents the cadre of talented young Bahamians who are competing in a number of sports where coaches can come and find talented and disciplined athletes."
Ayton, 19, is on the threshold of joining a group of Bahamians, who would have already played in the NBA, including Ian 'Foots' Lockhart, an Exuma native, who played with the Suns in the 1990-91 season. Lockhart hailed from Nassau Christian Academy and the University of Tennessee.
Among the other Bahamians who played in the NBA were Dexter Cambridge, a native of Eleuthera, who played for the Dallas Mavericks in the 1992-093 season via AF Adderley High School and the University of Texas.
Rick Fox, a Bahamian/Canadian who attended Kingsway Academy, went to Warsaw Community High School in Indiana and then shined at North Carolina before he was drafted with the 24th pick in the first round by the Boston Celtics.
Fox, now a retired movie star and TV commentator for ESPN, played with the Celtics until the 1997 season when he was released and picked up by the Los Angeles Lakers where he won three titles from 2000-2002.
Thompson's younger son, Klay Thompson, who grew up and played on the 2016 Olympic team for the United States of America, calls the Bahamas his second home.
Playing alongside Stephen Curry to form what they call the "Splash Brothers" in Golden State, Thompson surpassed his father when he earned his third NBA title this year to go with the crowns they won in 2015 and 2017.
Mr Pintard, who will head the delegation that includes members from the Ministry of Tourism and the Bahamas Basketball Federation, said they hope to make their presence felt when the draft takes place on Thursday at the Barclays Center.
While in New York, Mr Pintard said he will also be holding meetings with the NBA with the view of having them come down to utilise the facilities at the Kendal Isaacs Gymnasium for practices and away games when they play overseas.
"We also want to discuss their feeder system where they can have some of those games and or practices here," Pintard said. "So I will be having that type of discussion with them.
"We are also opening up a grass root hub in Grand Bahama, so I will be having some discussions with them on how we can get the NBA involved to assist us in that regard."
As for where Ayton ends up, Mr Pintard said it would be great if he can team up with Hield in Sacramento, but they like the projection that he will go with the number one pick with Phoenix.
"I think he would be quite happy wherever he goes," Mr Pintard pointed out.
Jeff Rodgers, a representative from the Ministry of Tourism, will be making the trip, but he's looking at it from a different perspective. It was during the Jeff Rodgers camp that Ayton was discovered before he headed off to the United States.
"During that time, he was a skinny 6'3 kid running around in the Bahamas Academy Auditorium," Rodgers said. "We had a chance to talk to his parents to get him enrolled in the camp, but he was more into his friends.
"He was very playful, but once he got into the programme and realised that basketball was something that he liked, he went to the USA and things just started to open up for him."
Rodgers said he couldn't recall exactly who scouted him at the time, but there was a lot of interest from a number of persons, including Olympic triple jump bronze medalist Frank Rutherford, who operates a development programme for Bahamian youngsters in Houston, Texas.
"I remember when he played his last high school game and I walked into the gym and he was on the bench," Rodgers said. "After the game, he was telling his players that I was the gym that got me started. He always included me in his interviews."
In 2016, before he enrolled at Arizona for his rookie season, Ayton came home and played for the Bahamas men's national team at the Centrobasket.
The team was coached by Mario Bowleg, the first vice president of the Bahamas Basketball Federation. Bowleg, too, will be a part of the Bahamian delegation in New York for the draft.
"We always felt that Bahamians had raw talent when it came down to sports," he said. "We proved that we can compete with anybody in any sport anywhere around the world.
"Deandra Ayton is just a prime example once again for basketball that we have the talent and, once harnessed properly, could reach the highest level."
Thirty-years after Thompson did it, Bowleg said it will be another major achievement for the Bahamas to see Ayton get selected with the first pick in the draft.
"To have two Bahamians drafted number one in the NBA is quite a milestone for us," he pointed out. "It tells us what we can develop in this year, once the talent is harnessed properly."