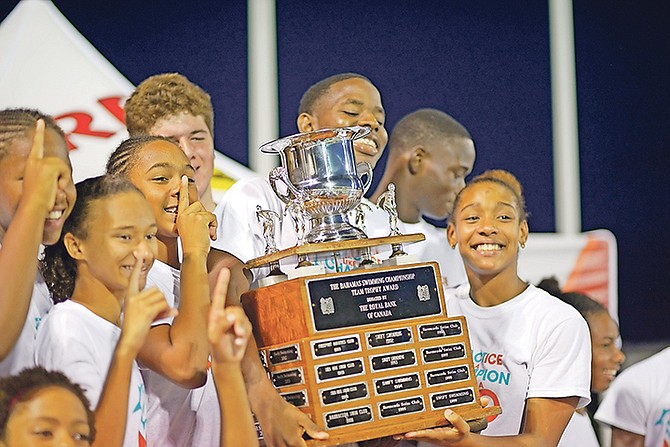 By BRENT STUBBS
Senior Sports Reporter
bstubbs@tribunemedia.net
THE Mako Aquatic Club made their debut in the Bahamas Swimming Federation's National Championships a spectacular one.
At the end of the four-day meet on Tuesday night at the Betty Kelly Kenning Swim Complex, Mako celebrated as they clinched their first team title with a total of 2,076.50 points to out-distance their nearest rivals, Alpha Aquatics Club, who had 1,073.50. The Grand Bahama Tritons rounded out the top three with 864.
"It feels great. We set our goals at the beginning of the year and the kids came out and accomplished 100 percent of them," said Mako's head coach Travano McPhee. "I can't be more proud of these kids. They came out and showed up, breaking multiple national records.
"Our 9-10 girls swept three relays with three records, our senior boys all the way to out 9-and-under boys performed very well. We had some newcomers in their first nationals and they stepped up and performed very well. I'm very proud of the kids. I can't ask for anything more."
At least 44 records were broken during the course of the meet and there were a number of competitors who attained the qualifying standards for some of the international meets left on the calendar for this year. The BSF, headed by Algernon Cargill, is expected to release the names of the competitors named to the team in a few days.
One of those top performers from Mako was Keianna Moss, the high point runner-up in the 11-12 girls division with 59 points behind Barracuda's Devin Cuffy-Bethel, the winner with 61.
Moss broke three individual records in the 50 back in 32.27 seconds, the 100m back in 1:11.06 and the 200m back in 2:37.81.
"I was really pleased. I was really trying to break all of the national records and so I am really proud of myself," said Moss, a 12-year-old heading into grade nine at St Andrew's School, who was extremely pleased with her feat in the 50m back where she lowered her time the most.
Another Mako success story came from Davante Carey, the high point winner of the 15-and-over boys division. Carey, who is heading into grade 12 at Queen's College, also set national records in the 50m back in 32.27 and 100m back in 58.96.
"Overall, I would say it was a very successful meet. I had four B cuts for the Youth Olympic Games in the 50m backstroke, 100m backstroke, 50m butterfly and 100m butterfly. We had a very strong start for a new club. Hopefully we can continue for multiple years and just stay together as a team."
Jorge Rodriquez, now in his fourth year here in the Bahamas as the head coach of Alpha, said he was pleased with his team's second place finish.
"I felt pretty good about the way they performed," he said. "One of the things we were looking for was for them to be exposed to this experience and eventually the younger kids will get the hang of competing in the nationals. So I think all of them performed very well. They tried to learn from their mistakes.
"I was talking to each of them though their races and they felt comfortable and they were not disappointed. They know what they have to do to improve for the next time they compete in the nationals."
Jared Frizgerald, one of the top performers for Alpha, said he was happy with his performances.
"I was glad to come home and have some fun after I had a shoulder injury last year," said Fritzgerald, who will be transferring from Indiana University to attend the University of Tampa. "It was a lot of fun. It was good to be back with some friends and just having fun in my races."
Zaylie Elizabeth-Thompson, a 14-year-old preparing for grade nine at St Andrew's School, was the high point winner for Alpha in the 13-14 girls division with 50 points.
"It was pretty good. I swam some best times and I was able to get a good feel of the water," said Elizabeth-Thompson. "I felt my club did very well considering how many swimmers we have. It shows that we have the proper techniques and we have quality rather than quantity, so I was very proud of my team and what we have accomplished."
The Grand Bahama Tritons, according to head coach Andy Loveitt, had their best performance so far with 33 gold out of 71 medals. Nine swimmers won national titles and 16 got medals - Nigel Forbes was a star for their team.
"The level of competition here was very good. We're getting stronger and stronger as swimming continues to grow," he summed up.
Forbes, a 12-year-old Sunland Baptist student going into grade eight, was the 11-12 boys high point winner with 63, holding off Freeport Aquatic's Marvin Johnson, who had 61. Forbes, however, stood out as a record breaker in the 100m butterfly in 1:03.27; 200m breaststroke in 2:39.42; 400m IM in 5:18.05; 50m butterfly in 27.67; 50m breaststroke in 32.54 and 100m breaststroke in 1:12.24.
"I thought it was pretty good. I know I worked hard for it and I got it," he said. "I was shocked that I got the 50, 100 and 200 breaststroke records. I wasn't expecting to get them. The competition was good. It was close. It helped to push me to get the records."
The spectators didn't get to see Arianna Vanderpool-Wallace compete as she announced her retirement before the meet, but two other elite swimmers made their presence felt.
Olympian Vereance 'Evis' Burrows was back in fine form, posting a time of 24.30 to lower his 50m butterfly record.
And University of Texas' Joanna Evans, coming off her appearance at the Commonwealth Games in Australia, lowered her mark in the 200m freestyle to 2:01.73 and the 200m IM to 2:18.10.