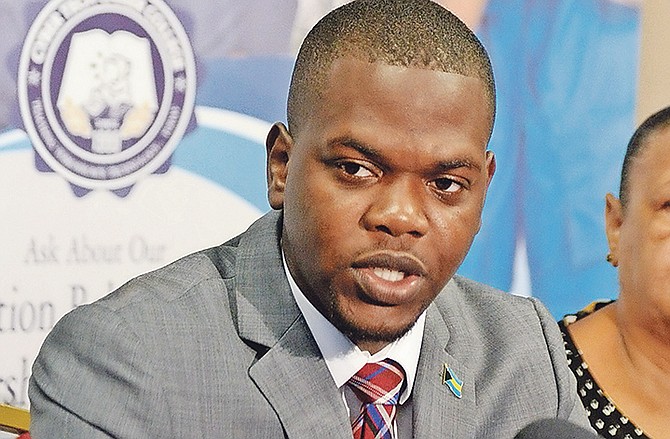 By RASHAD ROLLE
Tribune Staff Reporter
rrolle@tribunemedia.net
FREE National Movement officials feel betrayed by Travis Robinson's vote against value added tax's increase to 12 percent, but many residents of the Bain & Grants Town constituency are standing by their member of Parliament, telling The Tribune he owes his success to them, not to a party.
Mr Robinson, pictured, was fired as parliamentary secretary in the Ministry of Tourism and Aviation yesterday for breaching Westminster protocols that require parliamentary secretaries to fully support a government's priorities.
His firing was a stunning and unlikely development for a 24-year-old who epitomised the FNM'S promotion of youth during last year's general election campaign where he had received prime speaking slots during rallies and attracted more cheers and applause than many senior FNM officials when he spoke. 
He now loses a $45,000 annual salary and the perks that come with the job, such as a car and a government cell phone. As an MP, he still makes a salary of $28,000 a year. 
Once identified as the future of the FNM, his own future in the party is now unclear. Privately, party officials said he owed them loyalty, noting their investment in him was such that his campaign was fully financed at the party's request, frustrating others who sought financial help.
Carlyle Bethel, president of the FNM's youth arm, the Torchbearers Association, emphasised yesterday that the FNM's embrace of youth was highlighted not only in Mr Robinson's selection as a candidate last year, but also in the selection of Central and South Abaco MP James Albury and Long Island MP Adrian Gibson, among others.  
"There are a number of young people that stepped forward and I believe the party is still committed to promoting young people," Mr Bethel said. "There's always two sides to a story. We can understand where Travis is coming from, but we can also appreciate why the prime minister made his decision."
Among those grappling with Mr Robinson's decision, however, is Matthew Brown, vice-chairman of the FNM's Bain & Grants Town Association who said Mr Robinson did not consult the association before announcing his opposition to the VAT hike during his budget speech last week. He called Mr Robinson's action a betrayal of parliamentary ethics and insisted the association stands fully behind Prime Minister Dr Hubert Minnis and the vision of his government.
The relationship between Mr Robinson and the party's association, he said, had been strained sometimes, suggesting the MP's decision not to consult them on VAT was not without precedent. 
Meanwhile, residents of the constituency criticised a Westminster system that required Mr Robinson to resign from his government position or be fired, calling for it to be changed.  
"Not because you say the sky is blue means I must believe the same thing," said Crystal Colebrooke, 23. "I have to look up and come to my own conclusion. The system shouldn't be the way it is. There should be freedom of speech."
Like 66-year-old Patsy Johnson, an owner of a small store in the constituency, Ms Colebrooke believes the FNM's rare victory there last year will not be repeated in 2022. 
"People didn't vote for the FNM," she said. "We voted because we were tired of the PLP. If a dog did run against the PLP, that dog would have gotten in because we wanted change. But I don't think I will vote again. They always doing foolishness."
She added: "Travis grew up with no money. He for the people. He know about struggle. The rest of them don't."
Ms Johnson, meanwhile, said she is a lifelong supporter of the PLP who voted for the FNM for the first time last year.
"I will not vote for the FNM anymore," she said. "They only gon' serve one term. They fire Travis and the same way they did that we gon' fire them next time."
It's still unclear how Mr Robinson's decision will affect his future in the constituency. Residents like Freddy Johnson, 47, said the MP's popularity has been waning in the area. "Many people don't like him because he don't do anything for us," he said. 
FNM officials like Mr Brown insist that as opposed to voting against VAT, Mr Robinson should have explained to residents what the benefits of the budget are, such as its $5 million allocation for the Over-the-Hill initiative, exemptions for real property tax and select customs duties and VAT exemptions on bread-basket items. But many residents of the area are unconvinced such concessions will offset the general increase of VAT.
Asked about the Over-the-Hill plan, Ms Colebrooke said: "That ain gon' do anything for nobody. How long will it take for that to make any impact?" 
Likewise, Ms Johnson said the VAT exemptions don't solve the community's fundamental problem: a lack of money for basic necessities. "People around here don't have food to eat," she said. "Everyday I give people here food out of my shop."
Kevin Wilson, 51, added: "You still got to find the money, you still have to hustle hard. If you can't get money, exemptions won't help you."