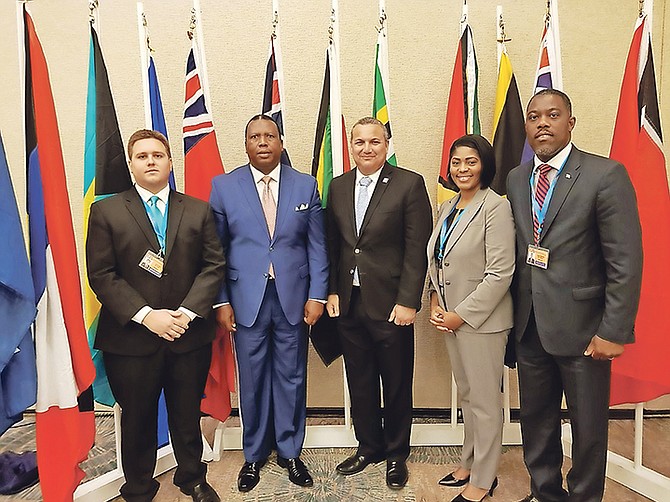 By RICARDO WELLS
Tribune Staff Reporter
rwells@tribunemedia.net
THE seven parliamentarians absent from Monday night's vote to increase value added tax from 7.5 percent to 12 percent were all out of the country on government business, according to multiple sources yesterday.
Free National Movement Chairman Carl Culmer confirmed the absence of Works Minister Desmond Bannister, Water and Sewerage Chairman Adrian Gibson and Parliamentary Secretary in the Ministry of Works Iram Lewis was due to obligations associated with the Ministry of Works.
It was later specified by Cabinet Press Secretary Anthony Newbold that Mr Bannister was in China attending an Urban Planning Construction forum, while Mr Gibson had travelled to London for a water conference.
Mr Lewis reportedly travelled with the minister.
Meanwhile, Mr Culmer said the absence of Deputy House Speaker Don Saunders and Parliamentary Secretaries in the Office of the Prime Minister, Pakesia Parker-Edgecombe and James Albury, was due to the obligations in the Cayman Islands for a Commonwealth Parliamentary Association forum.
In an interview with The Tribune yesterday, Mrs Parker-Edgecombe praised her parliamentary colleagues for their support of the government's vision.
The West End & Bimini MP said she believes the 2018-2019 budget aims to provide a foundation from which The Bahamas can positively build into the future, while addressing the issues it now faces.
She added: "This budget is not meant to burden the Bahamian people. I am confident that my constituents along with others will find innovative ways to lead better lives and fully take advantage of all the budget has to offer."
In a separate interview, Progressive Liberal Party South Andros MP Picewell Forbes, also on assignment at the Commonwealth Parliamentary Association forum, asserted that the government's move to increase VAT was unconscionable and showed little to no thought for the everyday struggles of hardworking Bahamians.
He told The Tribune his record on the proposed increase has been clear.
Mr Forbes insisted: "I said I didn't and wouldn't support the egregious increase In VAT to a burdensome 12 percent."
Beyond the seven absent parliamentarians, FNM Golden Isles MP Vaughn Miller, Pineridge MP Frederick McAlpine, Bain and Grants Town MP Travis Robinson and Centreville MP Reece Chipman joined opposition members Englerston MP Glenys Hanna-Martin, Cat Island MP Philip "Brave" Davis and Exuma & Ragged Island MP Chester Cooper in voting "no" to the increase.
All other MPs voted in favour of the bill, except the Speaker of the House who does not cast a vote.
The VAT amendment passed by a vote of 24 to seven. The 2018-2019 budget was also passed Monday night. The budget and VAT amendments must now be debated and passed by the Senate.