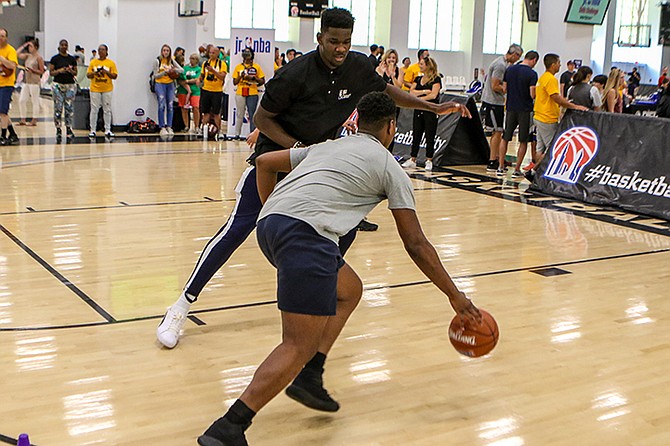 By RENALDO DORSETT
Tribune Sports Reporter
rdorsett@tribunemedia.net
MANHATTAN, New York - With a new Puma endorsement deal, Deandre Ayton hopes that the new faces of the country's basketball division can serve the needs of young Bahamians.
"Puma is a big deal on all these Caribbean islands, especially in their track and field branding, so being a part of that really helps," Ayton said at his pre-draft media availability yesterday, "Because, from a basketball standpoint, we can collaborate with the track and field segment to really create something big,"
The faces of Puma basketball moving forward - Ayton, Marvin Bagley III, Zhaire Smith and Michael Porter were all signed by the company this week just days ahead of Thursday's NBA Draft at the Barclay's Center in Brooklyn, New York.
Camps
"[Basketball camps] would be a huge step. That would be me giving back. I was the kid in basketball camps wanting to see the new gear that comes out or the gear that the camps give and I'm going to be giving them the best," Ayton told Bleacher Report, "I'm going to be giving them stuff I'm interested in and will be able to hear from the kids' perspectives about what they want."
The players represent Puma's first basketball signees in 20 years - since they signed Vince Carter in 1998.
In Athletics, PUMA sponsors the Athletic Associations of the Bahamas, Jamaica, Cuba, and Trinidad and Tobago, Dominican, Barbados, Switzerland and the Netherlands. Puma also sponsors the Olympic Associations of Jamaica, Bahamas, Cuba, Grenada and Trinidad and Tobago.
Ayton and Bagley were previously connected at the high school level when they both committed to attended Hillcrest Hoops Academy in Phoenix, Arizona in 2015.
At the time, Ayton was the top-ranked player in the ESPN 60 for the class of 2017, and Bagley was the top-ranked player in the class of 2018. Pundits expected them to make Hillcrest Hoops a dominant powerhouse almost immediately.
The duo has reunited at the pro level with Puma securing two of the top power forwards in the current draft class.
"I've known Deandre for a while. We built a relationship through playing with each other and it's been going on ever since then," Bagley said, "He's a cool dude, I love him like a brother, it's like family. Whenever I see his mom or his little sister it always feels like family."
Puma also announced rap mogul Jay-Z as the Creative Director for its basketball division.
"I just wanted something different," Smith said, "To be in the conversation with those guys. We have a chance to create something special.""