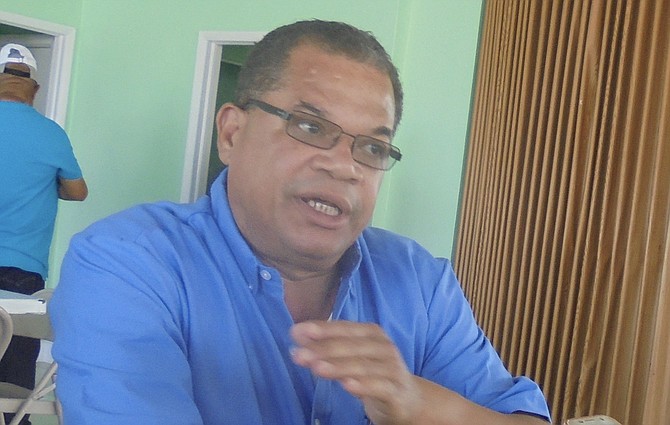 By MORGAN ADDERLEY
Tribune Staff Reporter
madderley@tribunemedia.net 
A DAY after web shop Asure Win said it will close 11 locations and layoff about 50 workers, Labour Minister Dion Foulkes described impending staff cuts from the sector as "unfortunate", but said there are several factors contributing to the closure of gaming houses aside from a tax increase.
Speaking to reporters outside the Senate yesterday, Mr Foulkes also called for web shop owners to take a moment and examine how the government's new sliding tax scale will affect them, instead of "anticipating" that it will be detrimental. 
On Tuesday, Asure Win blamed the budget's tax hikes for the closure of 11 of its locations nationwide and the termination of dozens of employees by the end of the month.
When asked if he had any concerns about this announcement, Mr Foulkes said: "I think it's very unfortunate that the layoffs are occurring.
"Of course as a government, as the minister of labour, we try to enhance employment whenever we can. But I would like to encourage all of the web shop owners to take a pause and see exactly how the tax will affect them, as to anticipating that it will be negative."
Mr Foulkes added that he understands that there were "several" factors contributing to why the shops are closing. 
"The anticipated taxes are only one of the reasons, I don't know if it was reported," he said. "I understand that some of those locations were not doing very well before the tax was introduced. And I understand that it was always a plan to close some of them."
When asked if he felt as though some web shops were using this opportunity to cut "dead weight," Mr Foulkes said he was unsure, but thinks that in the majority of web shops, all employees are needed. 
"I know the two largest employers in the country is Island Luck and Chances. I think both of them employ…between 700 and 800 persons.
"The government is continuing a dialogue with them, so that we can see to what extent we can address their concerns." 
"As minister of labour, I am always concerned whenever one Bahamian (loses) a job." 
Mr Foulkes noted that for those who are terminated, there are opportunities for them to get other jobs.
"Fortunately for us now, the economy is growing, especially in the tourism sector, in the banking sector— the commercial banks, the Bahamian banks, are doing extremely well. And we're getting reports across the board. 
"The construction industry is doing extremely well also. So hopefully, even if those persons are about to lose their jobs, they will be able to find new employment quickly."
He urged these persons to register with the Department of Labour, adding that "every day" the department gets requests for people to come in for interviews. 
Mr Foulkes also said that the Labour Department has not received any notification from web shop owners about terminations. 
"No, I don't have any notification, I just read what was in the papers this morning," he said. 
"I don't know when they plan to do it, but you have to give us at least one week's notice for any number under 20 and if it's over 20 persons, we have to get two weeks' notice. That is the law. But I have not received any notice from any of the web shop houses."
The new sliding tax scale is set to take effect on July 1.
Under the new measures, web shops will pay a 20 percent tax on up to $20 million of their revenue, a 25 percent tax on between $20 million and $40 million of their revenue, a 30 percent tax on between $40 million and $60 million of their revenue, a 35 percent tax on between $60 million and $80 million of their revenue, a 40 percent tax on between $80 million and $100 million of their revenue and 50 percent on revenue above $100 million.
During his budget speech last week, Tourism and Aviation Minister Dionisio D'Aguilar said some web shops were on the verge of downsizing even before the planned tax increase was announced.
"There are three of the seven gaming houses that are either too small or have been increasingly losing market share over the past three years that, unless something dramatic occurs, I expect them to begin to close locations," Mr D'Aguilar said. 
"So, when it happens, Mr Speaker, I do not want the people to cry shame on the government. With the advent of technology and the building of bigger and more splendid locations, the smaller players in the market are slowly losing market share." 
Mr D'Aguilar noted that about five years ago, there were 635 number shops, and there are now 363. 
"The downward trend is expected to continue," he said.