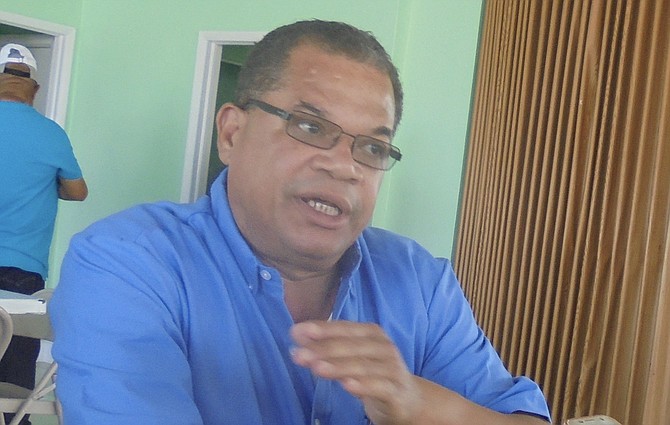 By RASHAD ROLLE
Tribune Staff Reporter
rrolle@tribunemedia.net
LABOUR Minister Dion Foulkes promised the Minnis administration will help more than 300 people who may lose their jobs as web shops respond to increased taxation, though he gave few details about how the government will do this.
Mr Foulkes said his ministry received a formal notice last Thursday from Island Luck that it will reduce its workforce by 50 percent, or about 350 workers, within 30 days.
"I can say very confidently that the government will not sit down idly and allow those people to suffer," Mr Foulkes told reporters following yesterday's morning Senate meeting.
He noted unemployed people can access benefits from the National Insurance Board. Those eligible could receive 50 percent of their average weekly insurable income for only up to 13 weeks under the law.
"There are other options we have to bring relief to those 350 persons if (they are fired)," he said. "I do not want to stay too much. I don't want to be premature but I can assure all of those workers at Island Luck that the government will come to their assistance."
The government has budgeted $4 million in the Ministry of Social Services to help people who may be affected by value added tax's increase to 12 percent.
The web shop sector has not been unified in its response to increased taxes.
Unlike Island Luck, FML Group of Companies has said before announcing layoffs or store closures, it will examine the impact of increased taxes.
Mr Foulkes said he was pleased to see FML CEO Craig Flowers say he wants to save jobs and not act prematurely. "I understand that Paradise Games, that several other houses are adopting the same position and that is very encouraging because at the end of the day we want every Bahamian to be employed," he said.
Meanwhile, it's unclear if web shops will pursue legal action against the government over increased taxes as they initially threatened.
President of the Bahamas Gaming Association Gershen Major said "no comment" when asked about this on Sunday. The association's lawyer Wayne Munroe said, "Not yet as far as I know" when asked about it as well.
In addition to Island Luck, ASure Win plans to close 11 locations by the end of June, which could see as many as 50 people let go, though the government argues this was always planned and is not tied to increased taxes.
Another web shop, Paradise Games warned employees last week that job cuts and store closures may be on the horizon due the government's increase in taxes for the domestic gaming sector.
"The domestic gaming industry is a competitive market with high operating costs. In some instances, these locations identified were already underperforming," ASure Win noted in a press release last week.
"With the proposed tax increases in the 2018-2019 budget, a sobering review of our operational costs and structure led us to take this preemptive action. External auditors have simultaneously been engaged to provide an impact analysis of the proposed tax increase on our business.
"Once those assessments have been completed, the results will dictate any further action. While ASure Win values its employees, given the current situation, the company has had to make some fundamental business decisions concerning the future sustainability of our operations," the company added.
Mr Foulkes said ASure Win's Family Island businesses have struggled, prompting the workforce reductions.
"Those residents in the Family Islands who are unemployed, there is relief for them also," he said.
Asked if the government is considering adjusting its tax hike for web shops, which will come into effect on July 1, Mr Foulkes demurred.
"That's up to the discretion of the Cabinet and I have no authority to speak to that," he said.