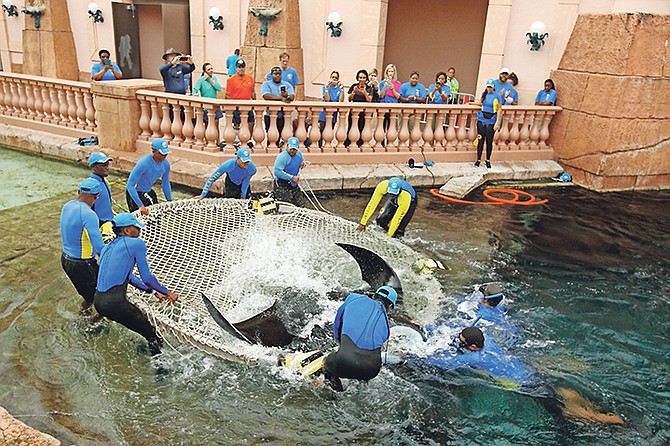 AS part of their renowned release and research programme, a team of 20 marine aquarists at Atlantis, Paradise Island resort successfully completed the transfer of a 700+ pound manta ray (measured at a final wingspan of 11.4 feet) named Leyley from the resort's 2.7 million gallon marine habitat back into the Atlantic Ocean.
Atlantis is one of only two aquarium facilities in the Western Hemisphere to presently care for and study the giant manta ray, a press release noted.
"Leyley's transfer marks the thirteenth manta ray release for the resort, whose marine husbandry practices and research have contributed greatly to data collection of the species," the resort noted.
"Leyley's journey back to the open ocean commenced at 7.50am with a comprehensive medical examination, including blood sampling, by the resort's veterinarian Dr Kelly O'Sullivan, and the installation of two satellite tags by Dr Robert Hueter of the Mote Marine Laboratory in Sarasota, Florida. Soon after, Leyley was transferred using a hand-woven net stretched across a custom-engineered frame designed to withstand the weight of a manta, the largest known species of ray. Once she was comfortably settled, the helicopter raised the net on a hydraulically welded frame to ensure her maximum safety and comfort. It took 105 seconds for the team to complete the transfer, from lift-off to the ocean.
"Mote Marine Laboratory will spearhead the tracking of Leyley's journey and migration and the depths and temperatures she encounters to help understand the migratory behaviour and survival of released mantas. This data will be valuable not only to Atlantis in their care for mantas, but to many aquariums, researchers and educators as they work in tandem to learn more about this one-of-a-kind, mysterious giant of the marine world."
The public can search for Leyley and view her migration patterns in near real-time by visiting: http://www.ocearch.org/.

"We are thrilled to tag and track our sixth manta ray in partnership with Atlantis. We have outfitted this animal with two tags to gather finer-scale data on immediate post-release behaviour and acquire some longer-term migration data. We look forward to tracking this animal's journey and sharing it with the world," said Dr Hueter.