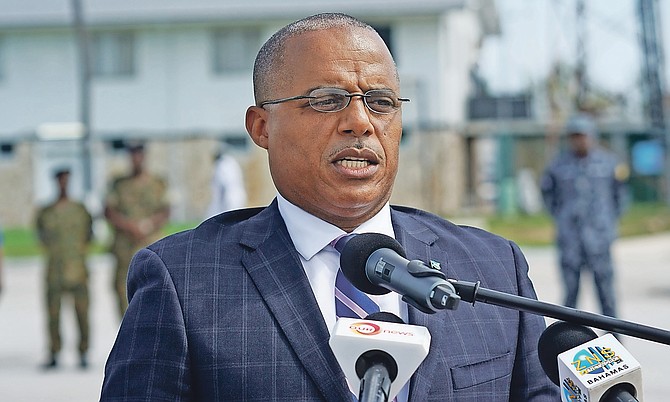 By MORGAN ADDERLEY
Tribune Staff Reporter
madderley@tribunemedia.net
National Security Minister Marvin Dames said corrupt prison officers will be exposed, prosecuted, and removed from the Bahamas Department of Correctional Services.
Mr Dames made these remarks on Thursday while speaking to reporters on the sidelines of the Tradewinds 2018 closing ceremony, held at the Royal Bahamas Defence Force (RBDF) Coral Harbour base.

The Minister of National Security also called for regular raids to be held at the prison, following reports of a stabbing incident at the facility.
"That matter is under control and under investigation, I'm aware of that much," he said.
"One of the things that I impress upon the leadership at Bahamas Department of Corrections is that I expect to see regular raids. That is extremely important."
"Obviously I've been improving on that. They continue to seize."
Mr Dames added that this is an issue plaguing correctional institutions around the world. He also expressed disappointment that prison officers played a role in some of these instances.
However, he noted that these errant officers form a "small minority".
"Unfortunately, these inmates are being supported by men and women in uniform. Albeit a minority, but that is a fact. And wherever we find them, we'll expose them and they will face the full brunt of the law. We make no apologies for that.
"We have had any number of successes this year and last year where officers have been found with illegal contraband in their possession, assisting . . . certain inmates, and some of them are currently before the courts. Some of them are no longer in the institution.
"I don't expect that that will change. This is all a part of the business. You know you recruit people, many of [whom] the vast majority are committed to serving their country, and then there this a small minority who look at it as an opportunity to fill their pockets."
The Minister added: "Well we're interested in finding those persons and will continue to improve our strategies and continue to focus on that small segment. "
Mr Dames said there is no room for anything outside of "integrity, loyalty, and commitment to service" for men and women in uniform.