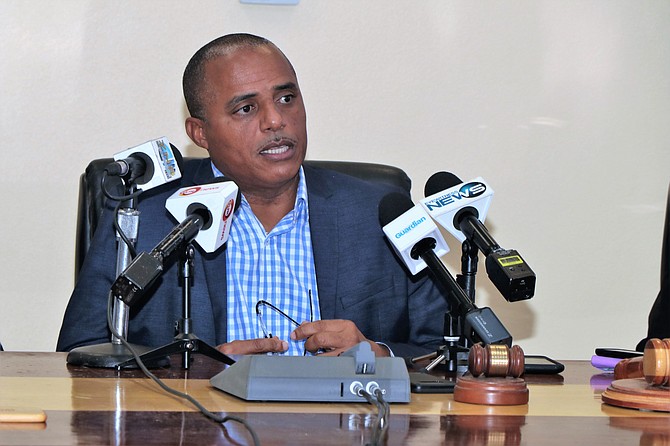 By Morgan Adderley
Tribune Staff Reporter
madderley@tribunemedia.net
NATIONAL Security Minister Marvin Dames is calling for a physical fitness standard to be implemented for law enforcement agencies in the country, and particularly within the Royal Bahamas Police Force.
Mr Dames made the comments yesterday at the Tradewinds 2018 Phase II closing ceremony, held at the Royal Bahamas Defence Force Coral Harbour Base.
The minister of national security added that the standard is important both from a health perspective and cost-wise.
Addressing RBDF Commodore Tellis Bethel, Mr Dames said, "You and I have had some discussions in the past about physical fitness and the need for certainly a regional physical fitness standard.
"One that encourages the entire region to come together from time to time, and (call it) a fitness challenge, that will get our men and women in law enforcement to participate and to gain interest in keeping physically fit. Because no doubt there is a need for that. And we know that the military often leads the way."
However, Mr Dames said some "other forces" are "crying out" for some physical fitness standard.
He added that he has already had discussions with Commissioner of Police Anthony Ferguson on the need for a physical fitness standard in the RBPF and other law enforcement agencies in the country.
"I think it bodes well for any number of reasons: one, it keeps the officers stimulated and motivated and interested and it builds morale.
"It also saves money, because we don't have to keep buying uniforms for the same officers (due to) size increase.
"And so I stand here to say that the people of the Bahamas can expect to see the changes in the physical fitness standards of our law enforcement agencies," he said.
Speaking to reporters at the end of the ceremony, Mr Dames added that this initiative is "no secret," and he has been having such discussions with the RBDF since last year.
"We want to see law enforcement officers that are in the best condition and the best shape. In many countries, there are standards. The defence force has a standard.
"The commissioner (of police) is looking at introducing a standard certainly for this first cohort that's due to come in shortly; the 105 recruits."
In terms of health, Mr Dames said this initiative will be carried out in conjunction with the Ministry of Health, adding that it is in part of the overall goal to have a healthier Bahamas.
"We have a vested responsibility as a government, and me certainly as minister of national security, to make certain that the officers within these agencies are healthy, they love what they're doing, and they can do it to the best of their ability."
When asked if the standard would be based on Body Mass Index or the ability to complete certain physical tasks, Mr Dames suggested it would be on the Body Mass Index.
"You're obviously very aware of health when you start speaking to Body Mass Index. A very long time ago I attended the FBI academy. I was there for…a little more than three months. And one of the primary focus during that training was physical fitness. And so we walked in, we did BMI, did everything. At the end of the training, there was a measurement," he said.
Tradewinds 2018 was a multinational exercise involving participants from more than 20 countries.
In his speech, Commodore Bethel said the exercise was focused on improving regional security through "combined joint training."
He also said it gave law enforcement officers the opportunity to train and improve tactical skills, procedures, and policing "with security forces of partner nations on the home front."