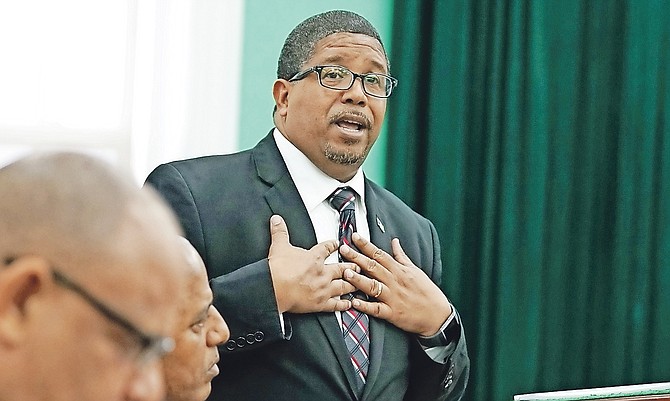 DEPUTY Prime Minister and Minister of Finance Peter Turnquest was interrupted at times as he tried to persuade those attending the Galilee College's 2018 graduation ceremony that critics have misrepresented the 2018-2019 budget.
He urged residents to read his budget communication for themselves rather than rely on third party information.
"How many of you have read the budget communication? Just put your hand up and be honest, we in church. Tell the truth. Who has read the presentation? And therein lies the problem.
"We have individuals who are making up things," he said during the event.
"I had a town meeting the other day and a lady said that 'you are not telling us the truth. You know why I know? Because Juan McCartney said and Ortland Bodie said.' And I asked her the question, what do you say? Did you read the budget? Do you understand it? Did you take the time to just maybe turn on the TV and watch the debate? And she sat down. That's the problem. I always say to people as I do these town meetings, you owe it to yourself and to your future generations to know, to be informed so you can make decisions to yourselves and for the future of this country.
". . . When it comes to the poor, there is this narrative that we are putting 12 percent and to make it sexy they say 60 percent tax on the Bahamian people. First let us recognise that when 7.5 percent was added, it was the same persons who were talking about how good it was. We've added four and a half percent and we didn't think about putting four and a half percent because we wanted to break the back of the poor. The reality is that the country is in debt and if you've ever had to work hard and come home to pay your bills, you know what I'm talking about."
The crowd grew restless as Mr Turnquest spoke and it was clear the budget in that setting was a tough sell.
"Give me a minute, give me a minute, we in church now, simmer down," he said in an attempt to calm the crowd down.
Over intermittent shouts and loud murmurs from the crowd, he explained: "So you've got $7 billion of debt and you are only making $2 billion a year, every year we earn $2.5 billion so we have got a deficit every year of over $600 million a year, now if you look at the amount of debt that's been accumulated year after year, because every year we are borrowing, even if you can't understand the $7 billion of debt, what you ought to be able to understand is that every year that debt is growing. This year, we are going to spend $381 million on interest, and to bring that into context, that is 14 cents of every tax dollar that you put into the treasury that goes to pay for interest."
One woman in particular could be heard shouting, "We care 'bout that?" and "These poor lil' children."
The value added tax increase to 12 percent comes into force at the beginning of next month. The hike has overshadowed what the Minnis administration has called the "People's Budget." The administration hopes VAT exemptions on bread-basket items and electricity bills up to $200 along with customs duty waivers on clothes and shoes for retailers will offset the impact the general increase in VAT will have on Bahamians.