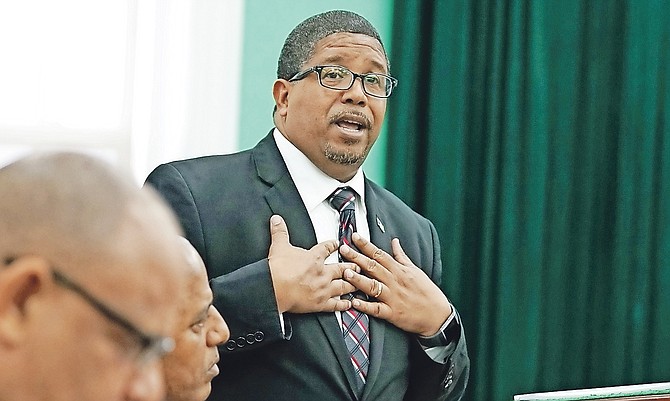 Deputy Prime Minister Peter Turnquest in the House of Assembly. File Photo: Terrel W. Carey/Tribune Staff
Stories this photo appears in:

AS he made an impassioned plea for Bahamians to take care of their financial obligations, Deputy Prime Minister and Minister of Finance Peter Turnquest said the Bahamas Mortgage Corporation is "insolvent" if it were not for the government's guarantee of its debt, with 47 percent of its loans in arrears.

IF I had a dollar for every time I heard a member of the government blame the previous administration for the state of affairs in the country, I would fare quite fine in our current economic climate.

DAYS after the Minnis administration agreed to halt new web shop taxes after gaming house operators sued the government, Finance Minister Peter Turnquest blamed the former Christie administration for issues the government now faces with the industry and their increased taxes.

DEPUTY Prime Minister K Peter Turnquest yesterday said the nationalisation of assets was not currently on the agenda as he responded to a recommendation by former Prime Minister Hubert Ingraham for the government to purchase the Grand Bahama Port Authority instead of the Grand Lucayan hotel.

Deputy Prime Minister K Peter Turnquest has conceded the Minnis administration still has a lot of work to do to ensure every Bahamian has the opportunity to earn a decent living.

DEPUTY Prime Minister and Minister of Finance Peter Turnquest said the government will only do what is in the best interest of Bahamians as it faces lawsuits over lease agreements that have allegedly been broken.His statement came after it was reveal

BAHAMAS Christian Council President Bishop Delton Fernander's criticism of government over the value added tax increase during the Independence Day celebration was "unfortunate" and "premature", Deputy Prime Minister K Peter Turnquest has said.

DEPUTY Prime Minister and Minister of Finance Peter Turnquest was interrupted at times as he tried to persuade those attending the Galilee College's 2018 graduation ceremony that critics have misrepresented the 2018-2019 budget.

AS HE warned gaming house operators the Minnis administration will "dig up" any underground operations, Attorney General Carl Bethel said the government's inalienable right to impose tax rates however it sees fit will be defended.

FINANCE Minister Peter Turnquest yesterday insisted the country was one major hurricane away from "total disaster" as he defended the impending value added tax hike in the face of mounting calls for the government to reconsider.

The web shop industry yesterday warned that 2,000 jobs will be lost, and 75 per cent of its locations will close, if the Government follows through with aggressive triple-digit tax hikes.