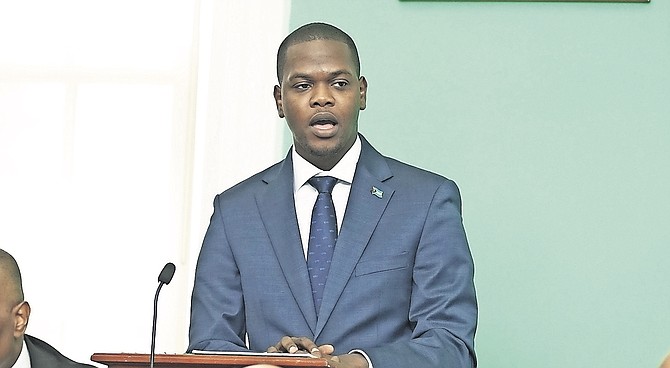 By KHRISNA RUSSELL
Deputy Chief Reporter
krussell@tribunemedia.net
WHILE declaring unwavering support for the governing Free National Movement despite being fired as parliamentary secretary by Prime Minister Dr Hubert Minnis, Bain and Grants Town MP Travis Robinson said his vote and presence in the House of Assembly are "mortgaged" to his constituents.
Breaking his silence for the first time since Dr Minnis terminated him from the appointment in the Ministry of Tourism and Aviation, Mr Robinson said he held no hatred or anger, but explained his integrity and allegiance to the people of his constituency led to his vote against the value added tax increase to 12 percent last week.
He said no system of governance, position or money will cause him to yield his personal beliefs when his people needed him most.
The MP questioned the relevance of the Westminster system in the modern-day Bahamas and called for a select committee to evaluate this system of governance.
This system, he said, left Dr Minnis no choice but to fire him from the post after his vote, adding no elected member of Parliament should be forced to choose between their party and the people they serve.
When he was fired, Mr Robinson was cited for breaching the Manual of Cabinet and Ministry Procedure, which states parliamentary secretaries, like Cabinet ministers, are bound as a condition of their continuance in office to support government's decisions in public.
After he was fired from the post, many speculated the young parliamentarian would end ties with the FNM to become an independent member.
However, when he stood to make the special communication yesterday, he affirmed his support for the FNM and the leadership of Dr Minnis.
"I wish to emphatically state, that the prime minister did what he thought was required of him and I accept my fate on behalf of the people of Bain and Grants Town," Mr Robinson said. "Yet like a tree that sways in the wind, it is without hesitation or animosity for this government and for the prime minister that the people of Bain and Grants Town offer our continued support.
"In the days since my termination I have had the opportunity to speak with the prime minister and assured him of the same. He has reassured me of the government's commitment to the revitalisation and rebirth of the Over-the-Hill communities and the supporting initiatives.
"Since joining the Free National Movement and being welcomed with open arms, the prime minister and I enjoyed and continue to enjoy even to this day a remarkable political relationship. So much so that we are often referred to in our camp as father and son.
"I wish to extend my gratitude to the prime minister for the opportunity to serve in the capacity as parliamentary secretary in the Ministry of Tourism and Aviation."
While he said he understood the need to pay down government debt, Mr Robinson told the House his constituents, who are already living in poverty, would suffer the most.
These people, he said, are angry not only about VAT but for various reasons. The government must not discount them, Mr Robinson said.
"When I said to my constituents on the campaign trail, I will fight for you, I will go to bat for you, I will stand up and speak out for you, I meant what I said and I said what I meant, even if it caused me my livelihood.
"No system of governance, no position or money will cause me to yield my personal belief or conviction especially when my people need me the most.
"For you see, mine is the story of a young black educated male from Bain and Grants Town whose poverty knew no end. I went to school in burst tennis shoes, an oversized short faded pants and a dingy white shirt that only had three buttons. My daily lunch meal was from the school welfare programme – free lunch line. I got a job as a teenager packing bags at the food store. Then became a car washer and later worked as a pump attendant at a gas station.
"My 'no' vote in this honourable house was in alignment with a low and meek rise from the dust of poverty.
"Contrary to what some may say, my one vote in this honourable House of Assembly is mortgaged to the people of Bain and Grants Town and to them alone. My integrity is not for sale. Mr conviction is not for sale. My one vote is not for sale," he added.
Speaking to the Westminster system, Mr Robinson urged Bahamians to research, engage in conversations and explore alternatives to this system of governance.
"Consider its origin, the current function and consequences, and the vulnerability of the government and the governed. Think broadly about democracy, what it means, what we need from it and what it requires of us.
"I wish to evoke the rights, duties and privileges bestowed upon the seat I sit as member of Parliament in this honourable House. As such I beg leave to call for a select committee of the House on the Westminster system to evaluate its relevance, its effectiveness and continued adherence in a 21st century Bahamas.
"It is my fundamental belief that no member should be placed in a position to choose between their party/government and the people they represent in this honourable House. Such a position is to put a stranglehold around the neck of democracy, choking the life out of it.
"In a democracy, power flows from the citizen to the government, but the vote is not the be all and the end all. We cannot be satisfied with participation that is limited to going to the polls every five years. If we are to be a strong, healthy democracy, we must all participate."
He said many suggest the country abandons the system, however he conceded there are many steps to be taken before the Bahamas can arrive at that point.
Since being terminated as parliamentary secretary, Mr Robinson said he received both locally and internationally, 244 letters of encouragement, 308 phone calls, 905 WhatsApp messages, 1,024 emails, 3,429 Facebook tags, messages and postings and 113,000 views and hits on his Facebook live feed during a community walk.