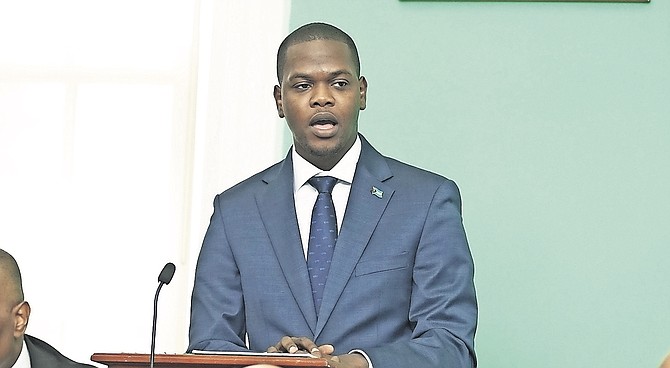 By Morgan Adderley
Tribune Staff Reporter
madderley@tribunemedia.net
LESS than ten days after being fired by Prime Minister Dr Hubert Minnis from his post as parliamentary secretary in the Ministry of Tourism and Aviation, Bain and Grants Town MP Travis Robinson has launched his own tourism consultancy business.
The company's name is Consult Bahamas Limited, and Mr Robinson described himself as president, CEO, and chief tourism consultant in a post to Facebook on Wednesday afternoon.
Mr Robinson provided more information on the company during a press conference he held yesterday to launch a $100,000 roof repair initiative to help 200 households in his constituency.
When asked why he chose consultancy as a field, Mr Robinson referred to his academic background in tourism management and his former government position.
"As it relates to the consultancy work that I intend to do, that is a personal initiative of me, as Travis Robinson, the man behind the name," he said.
"I'm using some of the experience that I would have gained at the Ministry of Tourism and Aviation where I served as the parliamentary secretary, as well as my background knowledge from the University of the Bahamas, studying tourism management.
"Given the fact that I have been able to serve on various committees in the Ministry of Tourism, I've worked directly with the minister of tourism and I've been a part of a number of investor initiatives in the tourism field.
"And so we're all aware of the many red tape that we as Bahamians go through, whether it is at the Passport Office or Road Traffic (Department) to get your licence, etc, and so my job now is more or less consulting as it relates to tourism initiatives, how we speed up the process to get various investments going."
Mr Robinson declined to say whether he has received any offers from the government as yet, saying that he does not want to "spur up any unnecessary talks about it."
However, when asked if this will be a consultancy firm for government or private companies, the Bain and Grants Town MP said he is "open to whosoever will."
"I can say very clearly that my field in the tourism field is one that I love and one that I enjoy. And so whatever may come or whatever may arise, Travis Robinson will be excited to continue to work in the tourism industry," he added.

Roofing Initiative
According to the area MP, the goal of the project is to assist 200 households within the community that are in "desperate need of roof repairs," this hurricane season.
Mr Robinson noted that roofing issues are the "overwhelming concern" of members of his constituency. He added that he now has "even more time" to focus on the challenges residents face.
"This initiative will be done in four phases," Mr Robinson said. "This morning we launched phase one, which will include the distribution of materials to individuals who are employed but still are in need of assistance to complete their roofs ahead of the major hurricane season."
These materials include plywood, shingles, felt, and other construction items needed to renovate roofs.
"Phase two would include individuals who are single parents as well as the elderly (and) will include materials as well as physical construction and renovation of those individuals' roofs.
"Phase three will also include the same thing, and then phase four will be opened up to the general constituents throughout the whole of Bain and Grants Town."

Mr Robinson said phase four will be geared to people who are also employed, but may be in a "financial difficulty" and could benefit from the materials.
A two-month assessment was done ahead of the launch, where roofs were checked to determine who would be the recipients of the initiative.
Mr Robinson said a number of private businesses were also contacted to ask for assistance. He particularly thanked Fidelity Bank, which he said is the "platinum sponsor" of the initiative. Other sponsors include Family Guardian, Super Value, and JS Johnson.
"The overall project will cost us an excess of $100,000," Mr Robinson said. "What we are focusing more or less on is the distribution of more or less supplies. As I mentioned, the individuals who would receive more than just supplies will be more or less the elderly persons in the community as well as single parent homes. So that is where the bulk of our finances in terms of construction and renovations physically will go."
The first phase is estimated to take a month, and the timeline for all four phases is approximately four months.
When asked what will happen to homes that possibly will not be fixed before a major hurricane should arrive, Mr Robinson said in three weeks the official Bain and Grants Town Hurricane Taskforce will be launched. He said it will be comprised of individuals within the community and will address such concerns then.
Mr Robinson also said that he does not have any "specific thoughts" on former Deputy Prime Minister Frank Watson's comments on Guardian Radio on Wednesday. Mr Watson said he did not believe the prime minister had to fire the Bain Town representative and two other MPs, who along with Mr Robinson voted against the VAT increase, from their government appointments.
"I make it very clearly known that Travis Robinson the individual, I support the increase in VAT. Travis Robinson the member of Parliament, I do not support the increase in VAT," Mr Robinson said.
He added that in Parliament he represents his constituency. "And so it is for them that I voted as I did inside the House. I can pay the VAT, as an individual. But it's not about me. It's about the thousands of people in Bain and Grants Town who are depending on me to be able to be their voice inside the House."
FNM Centreville MP Reece Chipman also voted against the VAT increase however he held no government position from which to be fired.