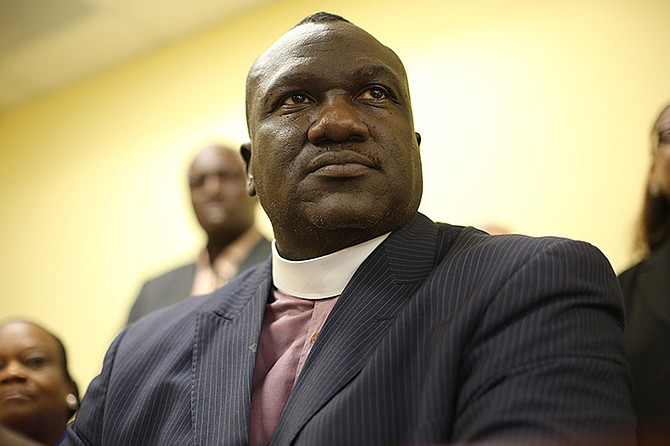 By RASHAD ROLLE
Tribune Staff Reporter
rrolle@tribunemedia.net
THE Bahamas Christian Council will send Attorney General Carl Bethel recommendations for outlawing marital rape on Monday, BCC president Bishop Delton Fernander said during a press conference yesterday.
He said the decision to send Mr Bethel amendments to the Sexual Offences and Domestic Violence Act was made last week Tuesday during a vote, although he didn't reveal how many people voted.
The council's religious leaders did not specifically vote on whether they supported the proposed amendments disseminated by Mr Bethel.
That amendment would criminalise the act of sexual intercourse with a spouse without consent, or where the actions of the defendant spouse is such a kind or in such a manner that, if the defendant spouse had used reasonable caution and observation, it would appear to the defendant spouse that there is no consent or that there would be great risk of there being no consent, he shall be presumed to have intended to have sexual intercourse without the consent of the other spouse, until it is shown that he reasonably believed that the other spouse gave consent, commits an offence and is liable to a term of imprisonment not exceeding ten years.
Bishop Fernander said: "We've had a meeting last week Tuesday in our annual session where we took the vote after hearing the presentation of our legal team. We allowed a few days to tweak; comments to be sent. And we've decided and voted that the council will present our amendments to the attorney general on Monday. We will go in person and meet with him and go over the presentation of our amendments that we would like for the Sexual Offences bill. It is our hope that in the spirit that it was given to us it will be received. After we meet with the AG that bill would become public.