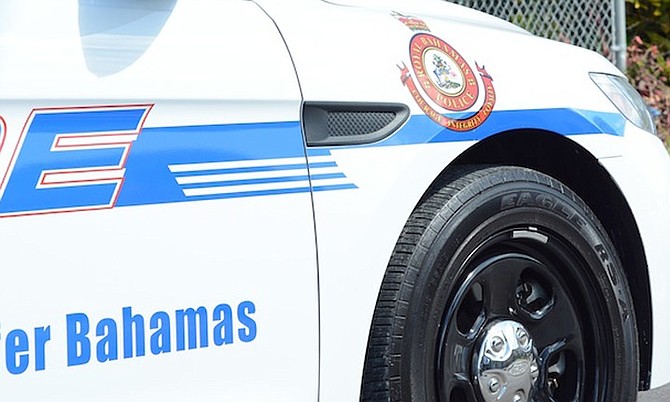 By Morgan Adderley
Tribune Staff Reporter
madderley@tribunemedia.net
POLICE have taken two men into custody in connection with Wednesday morning's fatal hit and run.
Bimini officers made the arrests early Thursday morning, less than 24 hours after the incident occurred on New Providence.
Around 4am on Wednesday, a woman was jogging along West Bay Street in the area of Bayrock when a rental vehicle fatally struck her.
Assistant Commissioner of Operational Support Kendall Strachan later described the accident during a press conference, saying: "The driver, having struck the pedestrian, left the scene, leaving her dead in the streets."
Although the vehicle was found shortly afterwards, the suspects were still at large until yesterday morning.
"Excellent work by officers of the Bimini District, resulted in the capture of two fugitives who are wanted by the Central Detective Unit in New Providence for a number of serious offences," police said yesterday.
"Reports are that on Thursday 1, shortly after 12am, a team of officers of the Bimini District, acting on intelligence, went to a local marina and business establishment where they arrested two males.
"Both males are wanted by the Central Detective Unit in New Providence for killing in the course of dangerous driving, fraud and other serious matters.
"Both males will be taken to New Providence where they will face criminal charges."
During Wednesday's press conference, ACP Strachan said there had been an "uptick" in pedestrian-related traffic accidents and hit and runs.
Wednesday's fatality marked the fifth traffic-related death in five days, and occurred less than 24 hours after an elderly male pedestrian was struck and killed by another vehicle.
On Monday, a motorist was killed when a woman suspected of fleeing the scene of an earlier car crash collided into his vehicle.
That accident occurred on the intersection of Malcolm Road and East Street.
On Saturday, a man died after he was ejected from the passenger seat of car that collided with a SUV near Lake View Cemetery.
Last Friday, a passenger's remains were found in a fire-damaged car after a collision with another car. The accident occurred in Treasure Cay, Abaco.
Shortly after 8pm on Friday, police received a report of two vehicles on fire as a result of a traffic accident. In one of the cars, officers found human remains burnt beyond recognition.
According to the RBPF crime statistics released earlier this year, 54 people died as a result of traffic accidents in 2017.

In the first two months of 2017, there were only eight traffic related deaths— five in January 2017 and three in February.
Consequently, the 15 traffic fatalities in the first two months of 2018 mark an 87.5 per cent increase when compared to this time last year.
In the wake of these tragedies, ACP Strachan pleaded with the public to exercise good road safety habits.
He said: "We are appealing to every one of you, drivers and pedestrians, to pay attention. And while we are also appealing, we constantly remind you of the importance of ensuring that you, firstly, and secondly the vehicle that you are driving, (are) appropriate for the streets."
He called for drivers to hold valid licences and all vehicles to be properly licenced, registered, and insured.
He advised pedestrians to wear bright clothing, stay on the sidewalk, and exercise in well-lit areas.