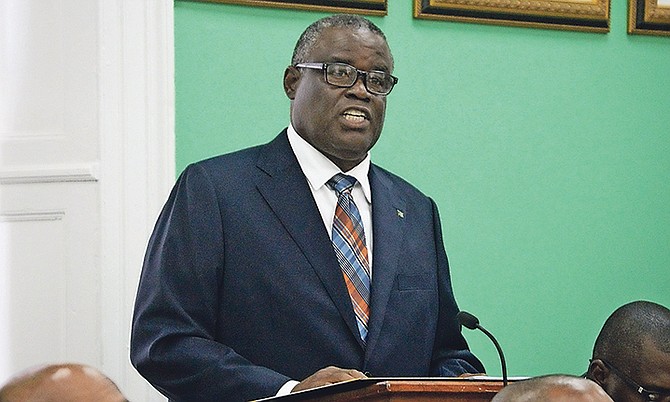 By MORGAN ADDERLEY
Tribune Staff Reporter
madderley@tribunemedia.net
PUBLIC Services Minister Brensil Rolle has responded to claims that Department of Correctional Services officers are not receiving their pensions, their permanent and pensionable letters, nor are they being promoted.
Last Friday, Bahamas Prison Staff Association President Anthony Butler discussed these issues with The Tribune.
Mr Butler described the "selective process" whereby some formerly retired officers who work year-to-year receive both their pensions and salaries, while others do not.
Mr Butler said: "You had some persons receiving (both), and some persons weren't receiving it. The persons who weren't receiving it (were) much more than the persons who received it."
According to Mr Butler, this issue dates back to mid-2016, under the Christie administration.
Outside Parliament yesterday, Mr Rolle told The Tribune: "It's just like the establishment. Some pensioners are re-engaged, just like the police re-engage pensioners on a month-to-month basis, the same applies to the prison. But I don't know where they're not receiving any.
"They're receiving one or the other."
Mr Butler also said another major issue is that there has been a delay in some officers receiving their permanent and pensionable letters.
He specifically referred to the 123 officers who were hired in 2016.
"I've been trying to get these letters from these individuals from last year. Internally they've already passed their probation period, which was a year. It's now two years, and no one is really interested in getting these letters for them," he said.
When asked about this issue, Mr Rolle said the claims of a delay are "possible," and pointed to a backlog in the vetting process.
He said: "One of the issues that we have in the public service is many individuals were given (permission) to be officers— customs, immigration, prison, etc.
"And then one of the things the former government did not do was have their character(s) vetted.
"So that process has slowed it down tremendously, and I'll speak more to that next week. But that may be a reason why some individuals have not yet been given their permanent letter," Mr Rolle said.
Mr Butler also said that promotions within the organisation are being withheld.
He said unlike other law enforcement agencies, which received a host of promotions in 2017, the Department of Correctional Services was only slated to receive 270.
By December, that number had dropped to 108, and officers still have yet to receive them. Mr Butler said this is "breaking down morale within the organisation."
In response, Mr Rolle said: "We just became the government. We have not gone through that process (yet). We are processing some of the promotions we met in train.
"We're seeking to process those. You've got to remember that when we came to Office, a number of issues were outstanding.
"Promotions (were) one of those issues and we've asked our ministry to relook at what was taking place.
"And that process has started now. We are processing most of the promotions that were in place since last year.
"And it was related to the fact that promotions were to be had, but there were no provisions in the budget to pay for promotions. And so we're now in a process with dealing with all of those things," Mr Rolle said.