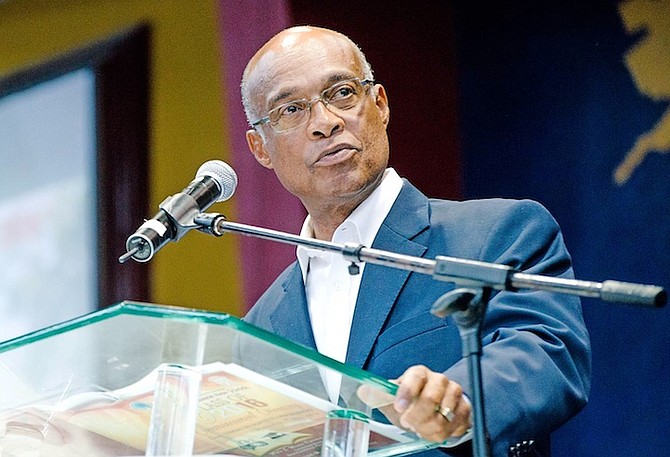 By RASHAD ROLLE
Tribune Staff Reporter
rrolle@tribunemedia.net
CHILDREN should be beaten in schools only if all other options have been exhausted and in the most egregious of circumstances, Education Minister Jeff Lloyd, pictured, has said.
He confirmed to The Tribune that under his leadership, education officials may revise school policies on corporal punishment, insisting modern research shows it to be an ineffective way of disciplining children.
His comments came after a district superintendent in West Grand Bahama and Bimini, in reaction to a viral video of a child in agony from complications stemming from an alleged beating by a school administrator two years ago, said the practice may be discontinued.
Mr Lloyd said: "I am not in favour of corporal punishment as a first, second, third or fourth option. I think there is obviously a place for maybe some use of corporal punishment but I believe that all other options should be exhausted first. Unfortunately as a society that is the first option we run to and I'm not going to tolerate that. I'm not going to accept it. There are many, many other very important, very effective options that can be utilised long before that is contemplated. I mean it really is an egregious circumstance for a child to have to be submitted to corporal punishment; under only the most egregious and I think that the rules require that any time such an act is going to in fact be exercised you have got to have witnesses there so it could be done in a most respectful and humane way. So we have to be very careful about this use of corporal punishment. We have a violent society. Why would we want to further create a culture of violence by inflicting and utilising this form of correction as a first option when there are so many other options we could employ? No. I'm not going to stand for that."
He added: "We're going to have a discussion with our team and we're going to look at the policy and we're going to make the necessary judgment reflecting the science of the day. There is evidence now as to what works and what does not work. We don't have to feel and scramble around about it. You don't go to a doctor and be guessing about what kind of treatment for particular maladies of your physical being should be employed. There are options so that's what we are going to investigate."
Traditionally, corporal punishment has had fierce defenders and some critics in the Bahamas.
In 2010, a study by researchers at the University of the Bahamas investigating the prevalence of corporal punishment of children in Bahamian households found that 77 per cent of households with children reported that "spanking" was sometimes used to discipline the minors.
The study concluded that violence between adults happened more in households where children were spanked "often" than when they were not spanked often.
The survey involved 933 people and 12 case studies.