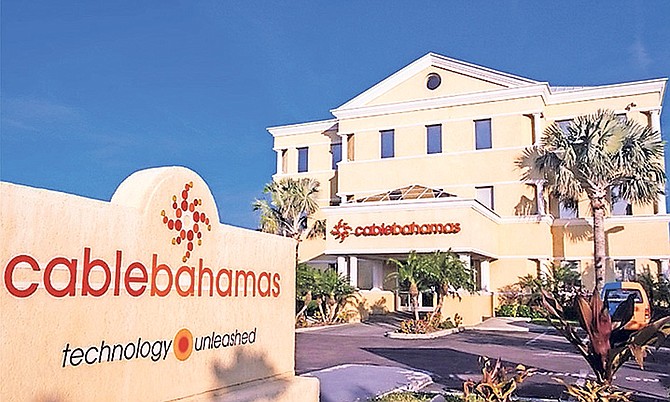 By NEIL HARTNELL
Tribune Business Editor
nhartnell@tribunemedia.net
Cable Bahamas' top executive yesterday said Aliv and its Florida investments will "turn the corner on plan" within the next 12-18 months despite a near-$31 million half-year loss.
Anthony Butler, the BISX-listed communications provider's chief executive, told Tribune Business that the group was "exactly on target" in executing its growth strategy and "pretty upbeat on the future over the next 24 months".
His comments came as Cable Bahamas unveiled a 57.9 per cent year-over-year increase in half-year losses for the six months to end-December, which rose from $19.467 million for the last six months of 2016 to $30.736 million.
Around 50 per cent, or $15.547 million, of this 'red ink' was generated by Cable Bahamas' 48.75 per cent minority stake in Aliv, the new mobile operator, which is still in 'growth mode' and incurring costs to acquire subscribers and build-out its network. The BISX-listed provider is also coping with similar start-up and infrastructure build-out costs associated with its Florida investments, with the two combining to act as a 'drag' on its short-term performance prior to generating increased returns and profitability for shareholders.
Mr Butler said Cable Bahamas was "continuing to execute" against this strategy, as he sought to reassure investors and the wider Bahamian capital markets that their patience would start to pay-off within the next one to two years.
"We're seeing growth in market share in wireless [Aliv] in the Bahamas, broadband and fixed-line continue to grow, and video remains strong," he told Tribune Business.
"Over the next 12-18 months the strategy with the new businesses will turn the corner on plan. We're exactly on plan, on strategy. The Cable Bahamas group is on target and we're pretty upbeat on the future over the next 24 months."
Mr Butler added that Cable Bahamas was "still in growth mode in Florida", but pledged: "Florida is exiting from the start-up phase, and you'll see that over the next year to year-and-a-half.
"It's on target, as plan. We're very upbeat for the business over the next 12-24 months. The strategy is bang on plan."
Mr Butler's comments, and Cable Bahamas' half-year results, come amid rumblings of shareholder disquiet and concerns over the heavy losses being sustained as the company seeks to execute on its long-term growth strategy.
A letter recently sent to Tribune Business under the pseudonym of 'A concerned investor' suggested that Aliv's recent need to tap the capital markets "is of paramount interest to Cable Bahamas' common shareholders".
The writer wrote: "Cable Bahamas points to Aliv as its future growth engine, and Cable management has said they would resume dividend payments to shareholders in fiscal year 2019. Aliv's continuing losses raise significant doubts about their ability to do that.
"In fact, Cable will very likely post their sixth straight quarter of multi-million-dollar losses within the next few days. Perhaps this will be the trigger for shareholders to finally demand a full and frank accounting for the Florida and Aliv operations, including...... realistic timelines for a return to profitability and dividend payments."
Companies typically forego dividend payments to shareholders as a means to conserve capital when undertaking major expansion projects. Cable Bahamas has been preaching 'patience' to investors over the Aliv and Florida build-outs, but there are indications this is starting to wear thin with some accustomed to regular dividends and instant returns.
With Aliv and the Florida operations now starting to emerge from start-up mode, the key is whether Cable Bahamas can execute and ensure increased revenue drops to the bottom line, returning the group to profitability, and the timing of when this takes place.
Mr Butler yesterday declined to comment on the fact that Cable Bahamas' current liabilities exceeded current assets at year-end 2017. Current assets worth some $73.756 million were equivalent to 87 per cent of the company's $84.757 million in current liabilities, which include $72.101 million in 'accounts payable and accrued liabilities'.
Cable Bahamas' current assets dropped by more than $25 million or 32.3 per cent during the half-year, falling from $108.96 million to $73.756 million as its balance sheet cash more than halved.
'Cash and cash equivalents' dropped from $55.915 million at end-June 2017 to $23.93 million at year-end. Cable Bahamas' balance sheet, though, showed it still finished 2017 with $86.501 million in 'net equity' or worth due largely to the $429.586 million value ascribed to 'property, plant and equipment' - mainly its fibre-optic infrastructure.
The balance sheet, though, shows Cable Bahamas is carrying a $387 million debt burden featuring $154.821 million in long-term bank financing and $232.235 million in outstanding preference shares.
The increased first half losses for a year that ends on June 30, 2018, were largely driven by a near-$11.5 million increase in depreciation and amortisation. Mr Butler said the increased charge was related to Cable Bahamas' enlarged infrastructure network, stemming directly from the build-outs of Aliv and Florida.
The depreciation increase, from $18.618 million to $30.054 million, saw Cable Bahamas' operating losses more than triple year-over-year - jumping from $4.41 million to $15.831 million.
While the communications provider's revenues jumped by 11.5 per cent, from $92.635 million to $107.284 million, operating expenses rose by a similar amount to leave gross income 'flat' year-over-year.
Cable Bahamas' second quarter results, though, provided some signs of improvement as net losses were effectively the same as the prior year, standing at $15.5 million compared to $15.343 million the year before.