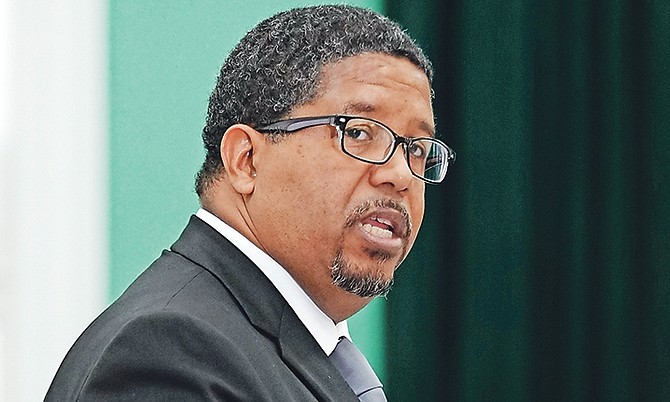 By KHRISNA RUSSELL
Deputy Chief Reporter 
krussell@tribunemedia.net
AS the former Christie administration committed an "immoral" fiscal travesty while in office between 2012 to 2017, the government's direct debt mushroomed from $3.9bn to over $6.5bn, Finance Minister K Peter Turnquest revealed in Parliament yesterday.
This increase of over $2.6bn represents a rise on average of $529m each year, the deputy prime minister said.
Despite $1.5bn in new revenue generation from introducing value added tax in 2015-2016, the debt still increased, Mr Turnquest said, suggesting this exorbitant spending ate up the new tax income brought on by binge spending on the nation's proverbial credit card.
In the first full fiscal year of VAT, recurrent revenue went up by $261m from the previous year as would have been expected, but rather than use the new income to pay down on the debt, he said the former government ramped up spending on programmes and services of so-called discretionary spending by $302m.
As these circumstances remain challenging to the government, the deputy prime minister said the Minnis administration is still picking up the pieces nearly a year into assuming office.
While the government discovered $150m in commitments that must be paid including $63m for NHI and the prescription drug plan along with $7.5m to Arawak Homes, Mr Turnquest said the Minnis administration also paid out $54m in the first half of 2017-2018 to satisfy the previous bills.
Among these was $13.2m in respect to 573 prior-year transactions across ministries and departments; $13m owed to the Bahamas Telecommunications Corporation; $5.6m for unpaid bills from the Department of Customs reform and modernisation project and $3.8m for the Fox Hill Community Centre among other exorbitant fees.
Nonetheless, he said 2.5 percent growth is expected this year and 2.2 percent is projected in the following year.
According to Mr Turnquest, the former Progressive Liberal Party government's handling of the state was "shoddy" at best.
"When I mentioned that we faced a bare cupboard last May, I was not speaking in jest, for there is no humour in the fiscal morass that we inherited – and the one that so severely constrains the room in which we have had to manoeuvre.
"Indeed our government walked into a most challenging environment in respect of the management and administration of public sector finances," the East Grand Bahama MP said.
Mr Turnquest said the previous government also engaged in "shameless and extravagant" pre-election spending.
"As we quickly discovered upon coming to office, that spree left us with virtually untold millions in unpaid overhang commitments with which we must now deal. Indeed their overhang is of an order of magnitude that may well be unprecedented.
"To date we have been able to ascertain just over $200m in such commitments. Unfortunately, it appears that this is not the end of the story as new unpaid commitments continue to surface. Such irresponsible behaviour by a government solemnly and faithfully elected by Bahamian citizens is simple unconscionable."
Other questionable matters he said is the claim that the former government committed $18m to support the printing of the Bahamas Handbook and in-room tourist guides, but only paid $500,000 towards the bill.
"The former administration did not put this work out to contract nor send it to Cabinet for approval. It is now left up to the government to sort this matter out and investigate the $17.5m that is supposedly owed."
Any number of consultants were also brought on some not having Cabinet approval nor working through the required procurement process, with ill-defined roles among other things, Mr Turnquest said.
"A Public Treasury where the senior staff could get no assistance obtaining critical equipment, or get approval for much needed staff – despite millions of dollars being frittered away. All because we suspect the treasurer was prepared to tell the former administration to follow the rules.
"A revenue enhancement project initiative and team costing at the time more than $1m a month to run including expensive foreign consultancies without any evidence of Cabinet approval.
"Despite all of the hoopla around the Bahamas Junkanoo Carnival festival, the Ministry of Finance had engaged an accounting company which had not been through the resources of the carnival festival and which has been holding on to bills from last year," Mr Turnquest said.
Moving forward Mr Turnquest said the government intends to transform state-owned enterprises, introduce new public procurement legislation, improve the ease of doing business and revitalise the Grand Bahama economy in order to achieve long-term economic growth.