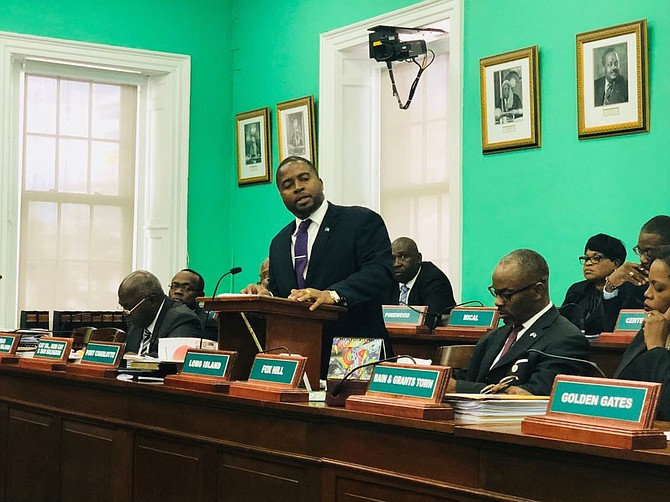 By RASHAD ROLLE
Tribune Staff Reporter
rrolle@tribunemedia.net
AUDITOR EY has painted a damning picture of the Water & Sewerage Corporation in its audit report of the institution, portraying a corporation awash with irregularities.
In particular, the debacle of the Gladstone Road Waste Water Treatment Plant (GRWWTP) is exposed. Despite a budget overrun of more than 80 percent, not since September 2016 has work been performed on the incomplete project, which was expected to receive and treat waste water from Baha Mar and return it for irrigation purposes.
Senior WSC officials were alarmed by how the project had gone off the rails, with former Chairman Leslie Miller saying in a 2016 WSC board meeting that the project had not been publicly declared "a stinker" only because it was "out of sight".
"If this was out there like the (government) building next to the Paul Adderley (building) this would have been a headline long time," he said. "God only bless us it is behind God's back and you cannot see it."
The plant, initially budgeted at $9.6m with a completion date of 2014, has cost taxpayers at least $17m so far, EY said.
Long Island MP Adrian Gibson, the current chairman of the WSC, tabled EY's report in Parliament yesterday and said it would be sent to police.
Investigators identified Merlene Poitier as one of the shareholders in the contracting company for the GRWWTP project, Nassau Island Development (NID). EY reported that she works in the law firm of Deputy Prime Minister Phillip "Brave" Davis, with Mr Gibson saying yesterday she is believed to be a secretary there. The company's other shareholder is identified as Anthony L Ferguson.
Highlighting the relationship with NID and Mr Davis, EY uncovered an email in which the company lobbied "for a WSC employee to receive a promotion".
Mr Davis subsequently reported the request to WSC's General Manager Glen Laville, saying in correspondence: "The case is compelling could you look into and resolve?"
In the last week, Mr Davis has repeatedly emphasised he has not seen EY's report and was not given a chance to respond to its revelations that may concern him.

He repeated this yesterday.
As he tabled the report, Mr Gibson said NID appeared to have an "angel" on its side.
He said notwithstanding the recommendations from the then board, management and consultants to terminate NID's contract and/or not make any additional payments, countless board minutes and emails show that the recommendations were "overruled"; that there were "external influences and manipulation"; that they were able to "evade termination."
In a March 9, 2016, board meeting, it was stated that the board and management had been directed to "seek a cost and completion strategy"; and to "continue (the) engagement of NID," he said.
Among other things, the contractor of the incomplete project did not secure a performance bond as is required during tendering processes, investigators said, noting requirements in this regard were continually relaxed on the apparent advice of senior government officials.
Twice payments were ordered for NID over senior public servants' considerable objections.
In the first instance in 2014, former WSC Chairman Lester Cox ordered the WSC to "make an advance payment" of $1.2m.
But EY said: "WSC management resisted and explained the amount the contractor had been paid to date was substantially more than what was reflected in the construction progress and that making the advance payment would negatively impact WSC's ability to manage the project."
Mr Cox, in various emails, appeared irritated that senior officials questioned the requests.
In one email to Mr Laville he said: "We sat in the meeting at 10am with the JV and I am amazed that we are still discussing while the project is at a standstill. Maybe I did not make the minister's request clear so I repeat. FACILITATE THE PAYMENT so that this project can come to a completion."
The report does not specify what minister Mr Cox was referring to, but Mr Davis was the minister of works with responsibility for WSC at the time.
In another instance, several months before work was halted on the project, $1m was ordered paid to NID.
EY said the payment "circumvented all internal controls of the corporation and severely handicapped WSC's ability to adequately manage NID".
That $1m, EY said, was not included in the project's overall $17.3m cost tag, meaning the project had a budget overrun of "approximately 91 percent" if it were to be included.
Colin Higgs, permanent secretary in the Ministry of Works, was among those not in support of the $1m payment.
On April 26, 2016, he wrote to former State Minister of Finance Michael Halkitis and former Financial Secretary Simon Wilson, saying: "When it came to my attention that an officer in the MOF (Ministry of Finance) was directed to request my ministry to facilitate payment of $1m to NID for the competition of works related to the GRWWTP, I made known to you my reservation for making the payment without consultation with WSC management and documentation to support such a payment. However, despite this, the payment was made… In my opinion, the $1m payment to NID compromises WSC's management of the GRWWTP contract and puts them, the project manager consultant and consultant QS in the challenging position of having to reconcile with the contractor outstanding payment for works completed and to account for a substantial sum one money that was provided to the contractor on account to undertake works that are not yet completed or stated."
Mr Higgs continued: "This payment, in my view, results in the project being at a high risk of failure to complete within the recommended and Cabinet approved $2.8m… I have now been provided with documentation to sign as chief financial officer MW&Ud (Ministry of Works and Urban Development) to approve the $1m payment. I wish to go on record as not supporting this transaction."
In addition, EY said WSC raised concerns about NID's relatively low score on the "technical aspect" of the bid during the tendering process. The contractor received a score of 71.5 when the minimum acceptable score is 70.
"Although WSC raised concerns about the low score, the contract was ultimately awarded to NID with the understanding that they would partner with another firm to bolster their technical capabilities," EY said.
As for the performance bond, EY said: "NID was unable to secure the 200% bond (eg, $15m) required by the tender, which would typically have disqualified them from the bid. NID was first given permission to secure a 25 per cent bond and was awarded the contract. Although the contract was awarded in March 2013, the contractor continued to struggle to secure the bond through June 2014. Finally, the contractor was ultimately allowed to seek a bond worth only 10 per cent of the original contract value."
EY said WSC management consistently blamed the project's budget-overruns and delays on ATS Chesters Engineers, a third-party contractor hired to manage the day-to-day progress of the project.
Management took "little to no responsibility themselves for what one executive tabled the 'worst project I have ever been a part of'," EY said.
Management blamed ATS Chesters Engineers for selecting NID "despite technical shortcomings" and for misleading the corporation about the overall costs associated with the project, according to EY.
"When asked why WSC wasn't more involved with daily project management and why so much reliance was placed on third parties to supervise a project of this scale, WSC management consistently referenced a lack of expertise and shortage of resources," EY said.
In a board meeting on February 23, 2016, Mr Miller and Mr Laville are highlighted discussing the project.
Mr Laville said: "Let me paint a very realistic picture: the agreement and rates that we have with Baha Mar will not cover the cost of operating this plant and satisfying the debt, so we are going to be in a losing situation from the time we start off."
Yesterday evening, Mr Gibson told The Tribune decisions related to the project are "forthcoming".
More like this story