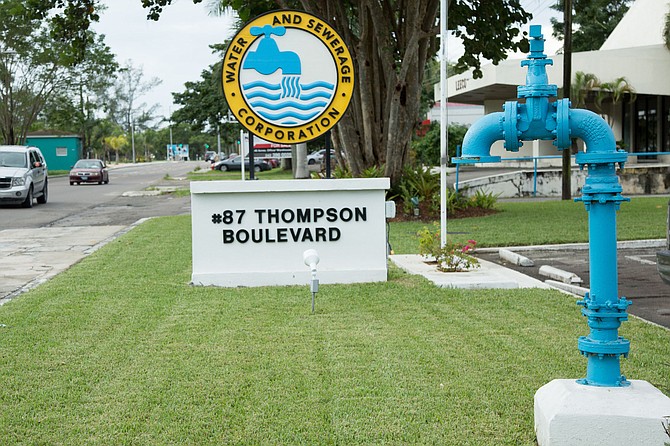 By RASHAD ROLLE
Tribune Staff Reporter
rrolle@tribunemedia.net
AUDITOR EY's report into the Water & Sewerage Corporation highlights how intertwined politics has been in the operations of the institution, revealing obscene rows with a political slant, calls for victimisation of Free National Movement "cronies" and apparent political patronage for Progressive Liberal Party supporters.
In correspondence revealed in the audit, WSC deputy chairman Audley Hanna forwarded a dispute between a worker and a supervisor, saying "we need to deal with these FNM 'cronies'."
According to supporting exhibits in the audit, former Deputy Prime Minister and Minister of Works Philip "Brave" Davis is seen directing WSC's management to employ people even though it is not often clear a need for their services exists.
WSC's periodic reports usually highlight its failure to reduce its "employees per active water connection" rate, with its 2015 report noting that staffing levels had remained stagnant despite the corporation's goal of reducing it. Politicians using the corporation as a way to extend favours may help explain the corporation's struggle to decrease its labour force.
And in one shocking email, Monique Adderley, identified as a WSC worker in Eleuthera, attacked her supervisor Michelle Pickstock, who the former claimed had accused her of engaging in sexual activity with the WSC chairman at the time – a matter that rose up the chain because of politics.
She wrote in a 2012 email to Ms Pickstock: "Mr Marcus Collins, myself and Walter Weech were returning from the wellness seminar in Governor's Harbour, we stopped to North Eleuthera shopping centre where Mr Weech and I proceeded to purchase some groceries before returning to Spanish Wells, upon exiting the store I was approached by Mr Burchie who said to me that Miss Michelle Pickstock told him that I said he will not make any money in his store because he is a certain political party supporter. I advised him that I never had no such conversation with Miss Michelle Pickstock. I telephoned you several times to ask you to desist from using my name during your political escapade. On Thursday, 3rd May, 2012, you telephoned my cell phone and I asked you why would you tell a resident of Eleuthera that I said he will not make any money because of his political affiliation, you responded yes, you did tell him that. I advised you to please discontinue using my name as I have been living in Eleuthera for two years and several months and no one can tell you that Monique Adderley bothers with anyone on this island, I stay in my one bedroom one bath quarters with my five children and my one husband. After hanging the cell phone on you, you returned another call and blurted out in my ears 'Yes, that is why you suck the Chairman CK' my, my such behaviour from a supervisor (sic)."
She later added: "I am logging this report so all can know how dirty and nasty you truly are and what staff have to put up with from the likes of someone like you."
Ms Adderley forwarded the email to Audley Hanna, the then deputy chairman of WSC who gained infamy in 2015 for being the contractor behind the uninsured male dorm at the Bahamas Agricultural & Marine Science Institute that burned down.
In an email to former Prime Minister Perry Christie and Mr Davis, Mr Hanna forwarded Ms Adderley's correspondence, highlighting it as reason to rid the corporation of Free National Movement "cronies."
"Monique Adderley is the daughter of Stalwart Councillor Gwendolyn Moncur," Mr Hanna wrote. "In a previous email from me I said that we need to deal with these FNM 'cronies' in Water & Sewerage."
Political support
In another instance EY identified, Centina Sawyer, writing from a BTC email address, wrote Progressive Liberal Party Trustee Valentine Grimes and another person, Terah Swain, to solicit a job for her son, emphasising their support for the PLP as a qualification. She wrote: "…As we had discussed, my son's name is Raj E Sawyer. He's 20-years-old, working on the 52 weeks programme with Water & Sewerage. He is enjoying working with the corporation but his time expires the end of October and I really need for him to be on a full-time job to sustain himself. I have been lifetime supporter of the PLP along with my mother Caroline Kemp, who is a stalwart of the party. I have three sure votes in my household, but my husband who is pretty much on the fence, has assured me that he will support me and the children, if Raj gets on permanently."
Ms Swain sent the email to Mr Davis, writing: "Please find attached a note from one of our supporters, requesting assistance with having her son confirmed at the WSC. He is a first-time voter that we need to keep engaged with the party."
Mr Davis then sent a message to General Manager Glen Laville, saying: "Some time ago — I requested that we seek to re-engage Mr Sawyer — is there any matter that (may) deter same."
In another instance, Mr Davis was emailed in 2015 by someone seeking help related to account charges.
The person wrote: "Hello Uncle Phil, please find metre accounts nos: 490-0160, 490-0190, 490-0220 & 490-0250 that I have mentioned to you on numerous occasions. Please see what you can do. See you for Thanksgiving Dinner at Francine & Joseph. Thanks."
Mr Davis forwarded the message to Mr Laville, saying: "Need you to look into why the Adderleys are being charged — when they don't have any metres nor have they ever had use of water supplied by the corp."
Mr Laville responded: "Based on reports received, this was a matter in the courts and judgment was awarded to WSC but payments were never made. However, it is now statute barred and we will have the meters removed and the accounts written off."
In another instance Mr Davis directed Mr Laville to employ a person named Philip Beneby.
Mr Davis wrote in the email: "You may have seen the contact between us on Friday — he indicated he spoke to PM which I have now confirmed and on humanitarian grounds he (PM) has persuaded that we re-engage."
Yesterday Mr Laville responded to the revelations of hiring for political purposes.
"Any government administration or political party that indicates they have never sent people to be employed, that's not accurate and that's a reality," he said. "Very often we are instructed or advised to follow instructions and the next set comes in and says 'why did you do that' while telling you follow everything they said to do."