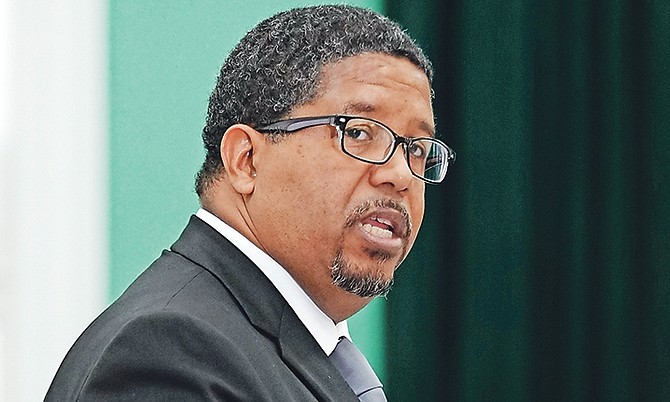 By NEIL HARTNELL
Tribune Business Editor
nhartnell@tribunemedia.net
The Government was last night "optimistic" The Bahamas' blacklisting will be "quickly reversed", suggesting the European Union (EU) had ignored top-level pledges to meet its demands.
KP Turnquest, the Deputy Prime Minister, urged Bahamians - and especially the financial services industry - not to panic as removing this nation from Europe's listing was "number one priority for me right now".
Mr Turnquest, who is heading a Government delegation that will meet EU officials today, told Tribune Business that letters he had personally signed committing The Bahamas to compliance with its anti-tax avoidance drive were "obviously not taken into account" in the 'blacklisting' decision.
The 28-nation EU, unveiling its rationale for "blacklisting" The Bahamas and two other Caribbean nations as 'non-cooperative jurisdictions', said this action was taken "because they have failed to make commitments at a high political level in response to all of the EU's concerns".
Mr Turnquest last night revealed that this statement likely stemmed from the fact that the Bahamas' initial compliance commitment was signed by Marlon Johnson, the Ministry of Finance's acting financial secretary, rather than himself or a Cabinet-level minister.
He added that when the EU expressed this concern to the Government on March 2, he immediately responded by sending them the same letter signed by himself. Had the EU recognised this, Mr Turnquest said, its statement and 'blacklisting' rationale "could not hold up".
The Deputy Prime Minister argued that "timing and miscommunication" were largely responsible for the Bahamas' 'blacklisting', but the EU had warned the Government - almost two weeks before the letter signed by Mr Johnson was dispatched - that it wanted "a firm commitment at high political level" that its concerns would be addressed (see other article on Page 1B)
Besides the absence of a "high level political commitment", the EU also justified its treatment of the Bahamas by arguing this nation had not done enough to prevent its corporate vehicles and structures from being used by clients - especially multinational corporations - for tax avoidance purposes.
"The Bahamas is added with the following text: 'Bahamas facilitates offshore structures and arrangements aimed at attracting profits without real economic substance, and did not commit to addressing these issues by December 31, 2018'," the EU said of its 'blacklisting' rationale.
Financial services industry sources, speaking on condition of anonymity, yesterday said the Bahamas' inclusion on the nine-strong 'blacklist' had provoked widespread dismay and concern throughout the sector.
Besides the potential damage to the Bahamas' reputation, the sector fears the EU's action may cause existing clients and their assets to depart as they will not wish to be domiciled in a 'blacklisted' jurisdiction. And such a status could also deter new business from coming.
"This was not well received," one highly-placed financial services executive revealed. "Persons are concerned. They are concerned about loss of business, and if we come off the blacklist the damage may have been done, as no one will want to do business in a 'blacklisted' jurisdiction."
The EU's 28 member states have yet to agree a co-ordinated package of sanctions/penalties against 'blacklisted' jurisdictions, but Bahamian companies - and individuals - doing business with Europe may see their transactions subjected to greater scrutiny and vetting as a result.
This, in turn, would slow the pace of commerce, while there could also be negative fall-out for the correspondent banking and custodial relationships enjoyed by Bahamian financial institutions.
If the 'blacklisting' results in foreign financial institutions viewing the Bahamas as 'high risk', it could lead to the loss and/or severing of such ties, which the Bahamian financial services industry - and wider economy - rely upon for cross-border commerce and capital flows.
Given the Bahamas' status as an international business centre and services exporter, maintaining such links are vital to the sustainability of its economic model. But inclusion on the EU's 'blacklist' could make it more vulnerable to global 'de-risking' trends that have already seen financial institutions, especially standalone entities that are locally owned, lose correspondent relationships with foreign banks.
While the international payments fall-out will likely be contained, given that the majority of overseas transactions originating in the Bahamas 'clear and settle' through the US, "on the flip side" the majority of its clients - and many Bahamas-based bank and trust companies - originate from Europe.
James Smith, a former minister of finance and ex-Central Bank governor, also pointed out that there could be negative consequences for securities custodians, given that the processing of such trades was frequently carried out through the Euroclear system.
Mr Turnquest, though, told Tribune Business he did not want "to get too far down that track" in terms of the 'blacklisting's' negative effects, given that the Minnis administration remained hopeful the EU might alter its decision when the Bahamas presents its full case.
"We're hopeful and optimistic we will get this reversed in short order," the Deputy Prime Minister said, acknowledging that an adverse listing could cause "reputational damage, and we have done everything we can to avoid that".
Moving to reassure the Bahamian public and financial services industry, Mr Turnquest added: "Right now, it's number one priority for me. They can be sure it's a priority issue for the Government, and we are committed to doing everything we can to get us off the list as quickly as possible and protect the reputation of the Bahamas."
He suggested that miscommunication, and related misunderstandings, had contributed to the Bahamas' 'blacklisting', not least that its 'commitment letter' was signed by a senior civil servant as opposed to a Cabinet minister.
"We've already submitted quite a bit of the information they required," Mr Turnquest told Tribune Business. "If you look at the statement they [the EU] made, their primary statement was that we didn't make a commitment at the highest political level.
"The February 8 letter to them was signed by the Financial Secretary. They wrote us back on March 2, saying they didn't see a commitment from the highest political level. I sent them the same letter and signed it as Deputy Prime Minister.
"They did not respond to us until they day of the Reuters article. We actually got back to them. We called them, spoke to them, followed up with formal letters and submitted draft legislation. We then came over to have the conversation with them here."
Mr Turnquest, together with Brent Symonette, minister of financial services, will today meet with officials from the EU 'Contact Group', which has primary responsibility for the 'blacklisting', to argue the Bahamas' case for removal.
"It's obvious that they did not take into account our submissions after the initial ones signed by the Financial Secretary, otherwise the initial statement they [the EU] made could not hold up," he told Tribune Business.
"It's a matter of them taking these submissions we've made, reevaluating them and, hopefully, we can have this situation resolved... We're very committed. It was recommitted by myself two times, verbally on the phone, and in a series of e-mails back and forth with various people. It's obviously more a timing issue and miscommunication which is why we're on it."
Mr Turnquest said there was also "a bit of inconsistency" in the EU's approach to the Bahamas, given that it accepted this nation's compliance with its automatic tax information exchange demands. The only issue outstanding, and highlighted by Europe yesterday, related to the Base Erosion and Profit Shifting (BEPS) initiative.
The BEPS initiative, which is being driven by the Organisation for Economic Co-Operation and Development (OECD), aims to ensure that the profits of multinational companies are taxed in the country where they are generated.
Multinational companies often use legitimate tax avoidance strategies to "exploit gaps and mismatches" between different countries' tax rates and rules, and "artificially shift profits" to low or 'no tax' jurisdictions despite conducting no or minimal business there. This enables them to minimise their tax exposure by paying a lower rate than they otherwise would in countries where they do conduct business.
It is these activities that the EU is also determined to crack down on, and compliance with anti-BEPS measures is one of the three 'criteria' it is using when judging whether to 'blacklist' countries.
Mr Turnquest, meanwhile, said the Bahamas had to address "several bits of legislation" to comply with the EU's demands. He declined to detail what changes/new laws were required, other than to confirm they were being drafted and would be ready shortly.
"There are several pieces of legislation that need to be harmonised to address the standard, which we're working on," he told Tribune Business.
Carl Bethel QC, the Attorney General, also declined to give specifics other than to confirm the Government was working to remove the Bahamas from the EU's 'blacklist' "forthwith", with Mr Turnquest and the Ministry of Finance leading the effort.
"We're moving very quickly in close consultation with the Ministry of Finance, and have every intention of moving expeditiously as guided by them," he said of the legal reforms.