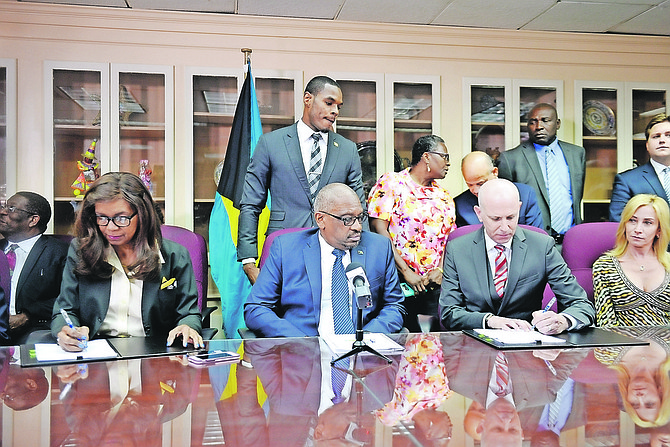 By RASHAD ROLLE
Tribune Staff Reporter
rrolle@tribunemedia.net
THE government signed a heads of agreement yesterday with Michael Wiener, principal of 4M Harbour Island Limited, to develop a $45m world class tourism resort on Harbour Island.
Mr Wiener is an American who, Dr Minnis said, has a proven track record in real estate development, having developed projects in Hawaii and Texas, among others.
Up to 150 people will be employed during the construction stage of the project, Prime Minister Dr Hubert Minnis said, adding 72 permanent positions are expected to be available when construction is complete.
The developer has committed to ensuring a Bahamian work force of at least 70 per cent on the project, Dr Minnis said.
He stressed that the signing of the agreement at Cabinet Office yesterday was "the real thing," not a "ceremony", alluding to the controversial agreement signing involving Oban Energies that has dominated headlines in recent weeks.
Dr Minnis rebuffed questions about that oil storage and refinery project yesterday, insisting he will address it comprehensively during his mid-year budget communication, which is expected to take place next week.
He expressed confidence that due diligence has been performed on the proposed Harbour Island development.
"This project has been completed in its totality," he said, referring to due diligence efforts. "I spent the entire last night making sure I went over every line myself...but don't twist that to say I didn't go over Oban. I know how you will have headline tomorrow, 'PM did not read Oban.'"
It is not clear when construction is expected to begin on the project, but Dr Minnis said it will take two and a half years to complete.
"Today confirms my government's commitment to accelerate the growth of the economy of the Bahamas and in so doing uplift the living standards of the people of the Bahamas, particularly those living in our Family Islands," he said. "This is part of our desire to provide greater opportunities in the Family Islands. It will serve to encourage Family Island residents to remain on the island of their birth, enjoy a sustainable future and provide for the needs of their families.
"The $45m Harbour Island resort and marina development, due to be completed in two and half years, will enhance the natural attributes of Harbour Island, invigorate and stimulate the economy of Harbour Island and the surrounding Eleuthera communities.
"Mr Wiener's vision for the transformation and revitalisation of the vintage property will bring a unique appeal to the southwest coast of Harbour Island. The marina property will be redesigned into a world class, state of the art luxury mega yacht based resort community with a wide array of amenities consisting of a marina, club house, restaurants, a retail and a resort residential community to include single and two-story town homes with a total of 28 guest rooms, ten villas and a swimming pool.
"The 55-slip marina and resort will be distinctly different with an architectural loyalist style design reflecting the historic roots of the Dunmore Town settlement and will enhance the product offering on Harbour Island," Dr Minnis said.
"I am advised that the project, in particular the marina component, has received the approval of the relevant government agencies, inclusive of the Ministry of Transport and Local Government and the Ministry of the environment. I am happy to say that Mr Wiener has committed to a 70 per cent Bahamian work force on this project for both construction works and business operations. It is expected that 150 persons will be employed in construction positions and 72 permanent positions will be made available for business operations. The employment will be enhanced by on the job employee training."
Dr Minnis added: "Entrepreneurial opportunities for local residents of Harbour Island are expected to flourish through tender bids which will be offered to Bahamian contractors. Mr Wiener will over the course of the development work closely with local government and resident government offices to ensure maximisation of Bahamian employment and training. From a cultural perspective, entrepreneurial opportunities in the marina village will be made available to Bahamian entertainers, musicians, artists and artisans."
Dr Minnis said some Harbour Island residents have already been consulted on the project.
"I am pleased to say," he said, "that the Harbour island residents have voiced their overwhelming resort for the 4M project at a public consultation meeting held in Harbour Island on the 16th of November 2017. The residents are enthusiastically receptive to the development and eagerly await the potential economic developments."
An environmental impact assessment (EIA) for the project has already been performed. Dr Minnis said the Bahamas Environment Science and Technology Commission (BEST) has reviewed the project. He said the heads of agreement for the project will be tabled in Parliament when he speaks.