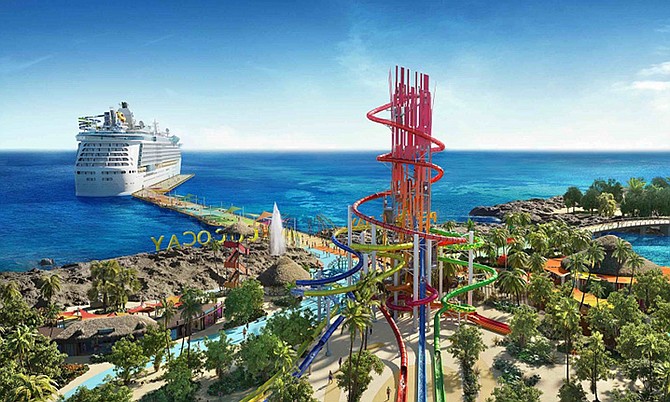 By Morgan Adderley
Tribune Staff Reporter
madderley@tribunemedia.net
LOCAL activists have expressed disgust at Royal Caribbean Cruise Line's planned $200 million overhaul of Coco Cay, its private island in the Berry Islands.
Upon completion in 2019, the island will have one of the largest water parks in the region and the tallest slide in North America.
The project will be named "Perfect Day at Coco Cay" and feature thirteen slides, a 1600-foot-long zip line that lands in water, a helium balloon ride that takes cruise passengers 450 feet into the air, and the largest freshwater pool in the Bahamas and Caribbean.
On Wednesday, Royal Caribbean president and CEO Michael Bayley discussed the project with USA Today.
He said the project has been in development for three years and will be unique for a cruise ship private island.
"It's really about bringing the kind of innovation and creativity that we've brought the past few years to our ships and creating the kind of experience ashore that we think (will) deliver the perfect day."
According to USA Today, this will include "the installation of a pier that will be able to accommodate even the biggest of Royal Caribbean's 24 ships".
Presently, "vessels visiting the island…must anchor off shore and ferry passengers to land, making it off limits to Royal Caribbean's biggest vessels."
Mr Bayley said this will allow Royal Caribbean's Oasis Class ships to visit. The three ships in this line can hold more than 6,000 passengers and are 30 peer cent bigger than their competitors. Each weighs more than 225,000 tons.
At 135 feet high, "Daredevil's Peak" will be the name of the tallest slide in North America.
There will also be a fully vertical, high-speed slide called the Screeching Serpent.
The 1600-foot-long zip line ending in a splash water landing also will be the first in the Bahamas or Caribbean, according to USA Today.
The freshwater pool will have three coves— one for families with a "kid-friendly beach-style entry area", another for adults featuring a swim-up bar, and a third with private cabanas that will be available at an extra charge.
For sports enthusiasts, the "South Beach" area will allow for soccer, volleyball, beachside basketball, glass-bottom kayaking, zorbing in an inflatable zorb ball, and paddle boating. There also will be a floating bar in the vicinity.
The largest restaurant will be Chill Grill, located in the "Chill Beach" area. This beach will also offer boat tours, snorkelling, cabanas, wave runner excursions, and daybeds.
Furthermore, there will be a private beach club that features "the only over-water cabanas in the Bahamas".
There will be an extra charge for the use of many of these new inclusions, including the water park.
The pier is expected to be completed this September and the entire project completed by November 2019.
However, "Perfect Day at Coco Cay" has been with some criticism by some locals.
Activist Heather Carey, of Raising Awareness about the Bahamas Landfill (RABL), denounced the project in a Facebook post on Friday.
Ms Carey said: "Just another example of how the cruise ship industry does little to benefit us locally, and instead continues to make the visitor experience more insular to the cruise ship islands, taking away any motivation to explore places like Nassau or to enjoy the excursions we offer."
"Royal Caribbean plans Massive Overhaul of Coco Cay. Dredging in order to accommodate the world's largest cruise ships. A massive marine park. Helium Air Balloon Rides. A fresh water pool."
"Sad. We cannot give away any more of our beautiful Bahamas to these bottomless pits."
In another Facebook post, Theo Linn wrote: "This once beautiful island was known as Little Stirrup Cay."
"It now represents tangible proof that our species is in the process of amusing itself to death. Goodbye beloved Bahamas."
A third Facebook user added: "Seriously. If guests want Disneyland, then go to Disneyland. Such a loss of natural beauty."
Tourism Minister Dionisio D'Aguilar could not be reached for comment up to press time.