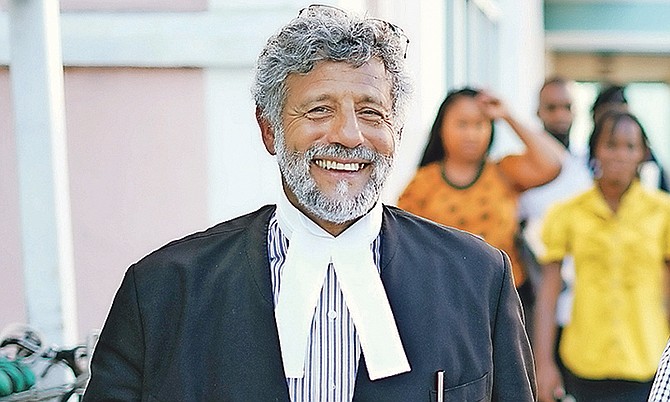 By RASHAD ROLLE
Tribune Staff Reporter
rrolle@tribunemedia.net
ATTORNEY Fred Smith, QC, praised the government yesterday for facilitating court hearings on Inagua involving migrants accused of entering the country illegally, though he said there remains a need to provide migrants with access to legal aid.
After their conviction on Tuesday, the migrants were deported on Wednesday, proving fears that mass illegal immigration will result from rigorously adhering to laws are overblown, Mr Smith said.
"Quite the contrary, all of these people are now presumably back out of The Bahamas," he said.

"This is not perfect, but it is a good start."
The government has faced intense pressure from immigration advocates over longstanding practices such as deporting detained people without giving them a chance to be heard in court.
On Wednesday, Prime Minister Dr Hubert Minnis, as acting minister of immigration, said he "sent" a magistrate to Inagua Tuesday to oversee legal proceedings against 230 recently apprehended migrants.
They were subsequently deported to Haiti after pleading guilty to illegally landing. Dr Minnis said he ordered the vessels they used to be "sunk."
He said it will now become standard practice to send a delegation to islands where migrants are detained to facilitate fair hearings and deportations.
Reacting to this yesterday, Mr Smith said: "I would like to congratulate the Attorney General Carl Bethel and (Director of Immigration) Mr Clarence Russell for turning a new leaf in their treatment of alleged illegal migrants. This is a big first step in respecting constitutional and Criminal Procedure Code rights. It is a complete break and a fresh start from the unconstitutional and illegal procedures adopted under Fred Mitchell. This is at least an attempt to respect the constitutional rights of every person in the Bahamas, whether they are Haitian or not. Haitians have rights too and if we are to mature and if we are as a nation to be respected for the democracy that we boast about having, it is important that the world sees that we are serious about due process in the Bahamas."
Mr Smith said to perfect the process, people accused of illegally landing in the Bahamas should be given legal aid, access to advice from an independent counsel and access to an interpreter.
"I have always opposed and continue to oppose the concept of swift justice or 'assembly line justice' or 'fast track justice' because that does not protect individual circumstances and rights," he said. "So I do hope that as our government changes its posture from the brute boorishness of the Fred Mitchell era, we also ensure that there are legal aid attorneys from the public defence clinic as well as prosecutors available and that people who may have been born in the Bahamas or who may be political refugees are afforded the opportunity for properly trained interpreters to mount a defence or an appeal under the Organisation of American States or the United Nations treaty refugee status provisions that we have so that their rights are respected."
On Facebook yesterday, attorney Wayne Munroe echoed Mr Smith's concerns, saying: "…You don't require a magistrate to intervene but if you decide to engage that process you need to provide interpreters, consular access and adequate time to consult lawyers. This rush may end up being counter productive."
Although the law allows people convicted of illegal landing to be fined and/or imprisoned, Chief Magistrate Joyann Ferguson Pratt discharged the detainees this week rather than imposing a penalty or sentence.
Mr Smith said: "I applaud the sentence imposed by the magistrate as a rational and sensible one in the circumstances. There was no sense in imposing a fine or a sentence of imprisonment and given that all of these persons were taken from vessels a discharge so that they wouldn't have a criminal conviction and a recommendation of deportation was sensible. This occurrence simply demonstrates a sea change in the government's approach and that is why I am applauding them. No process is ever perfect and that is why lawyers, prosecutors, defence attorneys, appellate courts exists because there is often a slip. Granted, I was not there. I don't know exactly what did or did not happen but from the reports that I have seen this is a dramatic difference from the past unconstitutional and illegal behaviour of the Mitchell era. It is also important to point out to all the people who say that giving illegal immigrants their rights under the Constitution would cause an invasion of illegal immigration in the Bahamas that this shows that it does not."