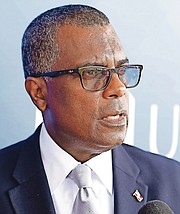 By RASHAD ROLLE
Tribune Staff Reporter
rrolle@tribunemedia.net
THE Minnis administration's decision to facilitate hearings on Inagua for 230 migrants accused of illegally entering the country last week is an unsustainable process, Progressive Liberal Party (PLP) Chairman and former Immigration Minister Fred Mitchell said yesterday.
With its actions, the administration has made a concession to attorney Fred Smith and like-minded advocates without having the benefit of a Privy Council ruling on the longstanding practice of deporting people before they have landed in the country without first seeking a court conviction, he said.
The practice of having a magistrate find "illegal migrants guilty and then dispatch them off to their home country" was done before, he said, adding: "The practice was stopped because it is simply not necessary in law and could result in a nightmare for the judiciary and the prison system.
"If you follow the logic of this present practice, by taking bad legal advice from a politically FNM connected lawyer - someone who has no love for this country - a tourist landing here at the airport with no visa will need to be found guilty of illegal landing before he can be put back on a plane and sent back home. This is done every day at LPIA by immigration. Clearly then to have to find migrants guilty is neither correct in law nor sustainable."
Last week, Prime Minister Dr Hubert Minnis said the government facilitated fair hearings and deportation in Inagua for the 230 illegal migrants who were captured in area.
He said it will become standard practice to send a delegation to islands where migrants are captured where such hearings can take place, rather than bring them to New Providence.
The government's actions last week come as it has faced intense pressure from immigration advocates over longstanding practices.
Mr Mitchell said: "We continue to say that the government must prosecute the decision on this matter up to the Privy Council level or amend the law forthwith to stop this."
Mr Mitchell said there was no need for a magistrate to be sent to Inagua last week, saying island administrations have the "full powers of a magistrate and could have easily dealt with the cases there in Matthew Town."
He said: "The government should be aware that this may seem fine so long as they plead guilty. What if they decide to not plead guilty? Are you going to give them bail? Where are you going to hold them if in their hundreds and thousands they say not guilty? In this case, the magistrate gave them a conditional discharge. What if a mother magistrate gives them a term of imprisonment? Then what?"
The Immigration Act empowers the Director of Immigration to order the deportation of anyone convicted and sentenced to prison for illegally landing in the Bahamas before their sentence experiences. Mr Mitchell, however, said taking this route after a magistrate hands down a prison sentence may raise concerns about judicial interference.
Mr Mitchell also called for an explanation from Dr Minnis on his role in authorising the magistrate to fly to Inagua.
"This is particularly important, not just because of the general questions about interference in the judiciary but given the interruptions in the House of Assembly by the FNM on the false accusations made against a minister of government about interference in the judiciary during the time the PLP was in power, certainly the prime minister as a matter of law has no legal role in directing magistrates," said Mr Mitchell.
"This is a role for the Chief Justice or for the Chief Magistrate. The Attorney General as the minister for the administration of justice would normally bet eh one who negotiates to talks to the head of the judiciary about administrative matters dealing with the court."