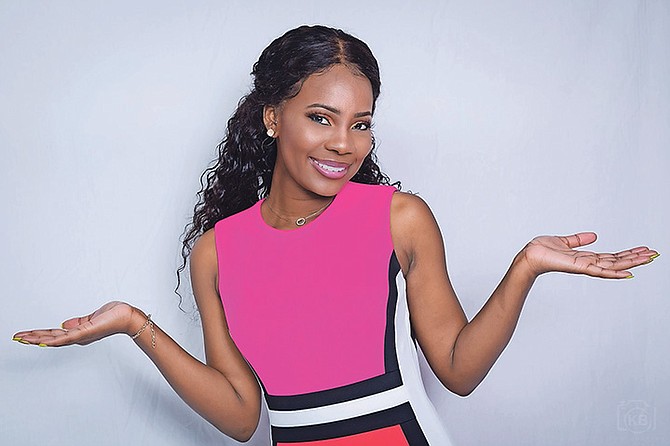 WHAT do you do when people look to you as a source for the what's happening in on the local entertainment scene? Ashley Swaby's response was to start her very own things-to-do app called S'Gern On.
For eight years now, Ashley has dabbled in event coordination and promotions under the company Bankable Productions. She describes herself as "a true Leo" – someone who possesses the qualities of a leader and a lioness when it comes to her chosen profession.
"I'm a pretty easygoing person and consider myself to be hardworking, trustworthy, reliable and innovative. I first got into event coordinating and promotions at the age of 20; I am now 27. Though inexperienced and somewhat naive, I always thought I had something unique to offer the nightlife scenery in Nassau. Since then I've taken an interest in marketing, social media influencing/promotions and project management. June will make eight years since I became an event coordinator and promoter, and September will make two years as a sales lady and marketeer," said Ashley.
Through the new app, launched last month, Ashley said Bahamians can now enjoy promotional services at no cost. She encourages people to download the app, as she is currently working on some exciting additions which she hopes will wow the nation.
She said it is a great feeling knowing the app is 100 per cent Bahamian created, owned and funded app.
"I am inspired because as a promoter it is somewhat expected to promote and share other events by promoters and graphics as a badge of support. Early on I faced challenges blasting and promoting events because my demographic quickly grew weary of the text blasts via cell phone and spam floods on social media," she explained.
"I had to think of a better way to get my promotions across without being intrusive, impersonal or annoying. I then imagined an optional platform where you won't only see what's happening at night, but also in the daytime. I want someone from Milwaukee or Johannesburg to have the Bahamian local experience as an option and not only what's considered a tourist attraction."
Adding that she has a colourful and spontaneous personality, Ashley said she enjoys the fact that there is always something exciting to cover in her line of work.
"I thrive off excitement. Thinking up a concept, theme or idea is cool, but the real satisfaction for me is through execution. More fulfilment is felt when compliments, recognition and positive feedback are given," she said.
She credits the support of people like Chris Sawyer, Fabian Fernander, Mark Cartwright, and her parents with the success of her business ventures. Ashley said she has learned that discipline, respect, compassion and being a leader are the fundamentals of her professional life.
"I just wanted to give every promoter a fair chance at exposure through my following. I see the app going far, even if I'm not here through to fruition, I think this is the beginning of my legacy. There's so much more the app will have to offer, but I'm not at liberty to disclose those surprises as yet," she said.
"Rest assured, it is something everyone from every demographic and walk of life would be able to enjoy and reap benefits from. So far the feedback has been tremendously positive. A lot of people I lost as a result of spamming felt as though it was a better option, and that gave me a sense of vindication. I also received great suggestions, which I'm working on implementing so it's as user friendly as possible."