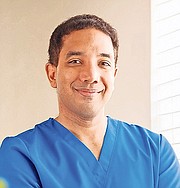 By Dr Greggory Pinto
Question: Greetings, Dr Pinto. I am a 54-year-old married man with diabetes and I have had worsening erection problems for nearly two years. I am embarrassed by the problem, which has affected my self-esteem.
Answer: Sir, you are far from alone in being afflicted with the very common complaint of erectile dysfunction, or impotence. My former German urology professor would tell his male patients that 90 per cent of men admit to having erection dysfunction at some time in their lives and the other 10 per cent are just not admitting that they are affected by the problem.
Some 30 million American men have erectile dysfunction, with difficulty achieving and maintaining a good quality erection. One in three men suffer from too early, premature, ejaculation. Patients with diabetes should be screened for erectile dysfunction and vice versa, as there is such a strong correlation between diabetes and poor erectile performance, with more than half of men with diabetes having erectile dysfunction (ED). There is also a strong correlation between subclinical and clinical cardiovascular disease and erectile dysfunction.
The most important thing to understand is that the problem can be corrected, and you can regain your strong erections and regain your confidence, self-esteem and happiness. Erectile dysfunction may be related to poor blood flow or nerve impairment as well as side effects of medications. Poorly controlled common medical conditions, such as diabetes and hypertension, can lead to the condition. It may also be psychological or, frequently, due to low testosterone – the hormone needed for sexual libido and erections.
Men over 50 often unknowingly experience a fall in their testosterone levels and a condition known as late onset hypogonadism. Erectile dysfunction is often the main complaint of this condition, but low testosterone can also cause low energy levels, mood disorders and depression, unwanted weight gain, loss of muscle mass and even heat intolerance.
Men with suspected low testosterone, at any age, can have blood tests to determine whether they have primary or secondary hypogonadism. If that is the case, medical treatment may improve their testosterone levels and allow them to regain their sexual vigour and strong erections.
Thousands of Bahamian men take Viagra, Cialis, or unregulated, expensive sexual stimulants for low testosterone levels. These can be corrected with medication, eliminating the need for costly stimulants Men treated for low testosterone will also enjoy better general health with more energy, more muscle mass, a reduction in unwanted weight gain and improved mood.
Erectile dysfunction can also be treated by painlessly injecting the drug Alprostadil to the base of the penis, leaving the nerves intact. More complex problems of erectile dysfunction can effectively be treated by surgical placement of a penile prosthesis.
The medication Levitra, dissolved under the tongue, can lead to a stronger erection within minutes. There are also treatments available for premature ejaculation.
At Urology Care Bahamas, confidential and compassionate care is always provided and medications can be dispensed, in house, without the potential embarrassment of filling prescriptions elsewhere.
Bahamian men, do not suffer silently with the often-devastating problem of erectile dysfunction. State of the art urological care is available to solve your problem. Regain your strong erections and sexual vigour and regain your confidence and happiness in life. Call Urology Care today at Centreville Medical Centre.
• Dr Greggory Pinto is a Bahamian urologist who has trained in South Africa, Germany and France. He is a member of the European Association of Urologists. Dr Pinto can be reached at Urology Care Bahamas at the Surgical Suite, Centreville Medical Centre, Collins Avenue and Sixth Terrace. Call 326-1929, e-mail welcome@urologycarebahamas.com, or visit urologycarebahamas.com.