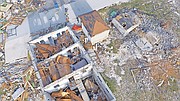 By KHRISNA RUSSELL
Deputy Chief Reporter
krussell@tribunemedia.net
WHILE still not giving a proposed timeline of when hurricane-ravaged Ragged Island is expected to be fully restored, Prime Minister Dr Hubert Minnis said techno-economic modelling for the island's electrical grid has been completed.
This modelling completed by US based company Rocky Mountain Institute will give way to a solar array and battery storage system, which is expected to provide 95 percent of Ragged Island's electrical needs, he said.
The system will cost $2m.
However, Dr Minnis did not say whether the funds would come from the public purse, or be raised through public private partnership as he previously suggested.
"The well known Rocky Mountain Institute has completed techno-economic modelling for the Ragged Island electrical grid," the Killarney MP said during his update on the progress of restoration on Ragged Island six months after Hurricane Irma decimated the small island.
"This modelling is known as the HOMER (Hybrid Optimization of Multiple Energy Resources) Model. HOMER Models are widely accepted as one of the most trusted and advanced methods for modelling the addition of renewable energy resources into existing micro grids.
"The proposed solar array and battery storage system will provide 95 percent of Ragged Islands electrical needs with the existing diesel generators remaining functional for back up power when solar production falls short due to bad weather. The budget for the proposed system is $2m US."
He continued: "Savings incurred from reduced fuel consumption and operating costs will be roughly $270,000 per year achieving system payback in less than six years. I will advise later on how this matter proceeds.
"We are determined to make Ragged Island a model for renewable energy as we rebuild that island."
Days after the island was destroyed, Dr Minnis told Parliament his administration intended to "transform" it into the first fully "green" island in the region.
The prime minister explained renewable energy and smart technology from solar energy and sustainable water purification systems will be utilised for this effort with the help of residents and descendants of the island.
To further support these efforts, Dr Minnis said the government would seek not only the assistance of Bahamians, but look to international counterparts.
However, at the time he did not reveal a cost to be associated with this undertaking, adding Minister of Finance K Peter Turnquest would offer details at a later date on the price tag of Hurricane Irma's related costs. This has yet to be done. Works Minister Desmond Bannister has said full restoration will cost tens of millions of dollars.
The slow progress on the island has caused many to voice frustration among them, Exuma and Ragged Island MP Chester Cooper.
Back in January, the MP railed against the government saying the situation in his constituency remained absolutely critical.