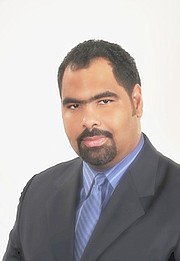 By RASHAD ROLLE
Tribune Staff Reporter
rrolle@tribunemedia.net
GOWON Bowe, president of the Bahamas Institute of Chartered Accountants, is not convinced the Minnis administration has secured "proof of funding" for the $5.5bn Oban Energies project.
He also said Prime Minister Dr Hubert Minnis' address Tuesday evening suggests the project remains a "concept" that has yet to be fleshed out.
When he spoke in parliament Tuesday, Dr Minnis made no mention of financing for the project. During the "ceremonial" Heads of Agreement signing event on February 19, however, he said the company displayed proof of financing during the government's due diligence efforts. In citing mistakes Tuesday he claimed the administration made, he said more due diligence could have been done.
Funding concerns were the chief reason the project went nowhere under the last Ingraham Administration. Former State Minister for Legal Affairs in the Christie administration, Damian Gomez, said yesterday the PLP had similar concerns, hence the project's failure to proceed.
Mr Bowe said: "(The prime minister's) choice of words as it relates to proof of funding may be one that is a bit aggressive. There is a distinction between the developer demonstrating agreements in principle from various investment houses verses those investment groups coming on board and saying we will provide the money for the project.
He continued: "Ninety percent of investment groups would say certain conditions must be met before funding will be released. An agreement in principle is not a guarantee of funding. Unless the principals of this project are a close-knit group of highly connected individuals prepared to put up the necessary financing on their own, then any kind of financing from investment groups would be subject to conditions.
"And one thing any investment group would consider is the cost of restoration associated with environmental impact assessments, which can be prohibitive for some projects."
"Reading the tea leaves," he said, "the project is a concept that is now being fleshed out. The Heads of Agreement gives them two years to flesh out the material elements and there are still a lot of details to be completed."
Experts yesterday said a commitment letter from a bank or banks showing provision for a line of credit to the developer could suffice as proof of funding.
Former State Minister for Finance James Smith said the company "could have put its capital into a company that could have been verified by auditors."
But he said because the project is worth billions, showing proof of funding may "not be easy to do, especially for what looks like an unknown company."
He said: "If Shell came in or Exxon, you'd get information from them because they're public companies. With a new company, it's very difficult. What the government needs to do in checking them out is certify the financial standing of the principals."
Dr Minnis revealed the beneficial owner of Oban Energies is the K Family Irrevocable Trust, but he did not provide details about the people behind this trust.
"It maybe a confidentiality issue," Mr Bowe said, "where certain conditions have to be met before a person would want to have their name associated with the project."
He said: "The stronger a commitment to funding is obtained, the more willingness there typically is for owners to share their association with projects with the public as well as their sources of funding. (The prime minister) should have been clearer about what is to be done in this regard. If money is in the bank account waiting for the project to commence, he should have said that. If it is subject to certain conditions before it could be accessed, that's something that should've been shared. If funding has to now be raised, that too should've been shared."
Mr Bowe said a lack of proof of funding at this stage is not an "embarrassment."
"It's like Baha Mar in its initial stages; there is a commitment to commit," he said. "There's no use crying over spilt milk at this point. There's at least been maturity in acknowledging things didn't work as intended. What needs to be articulated now is what will be changed going forward."