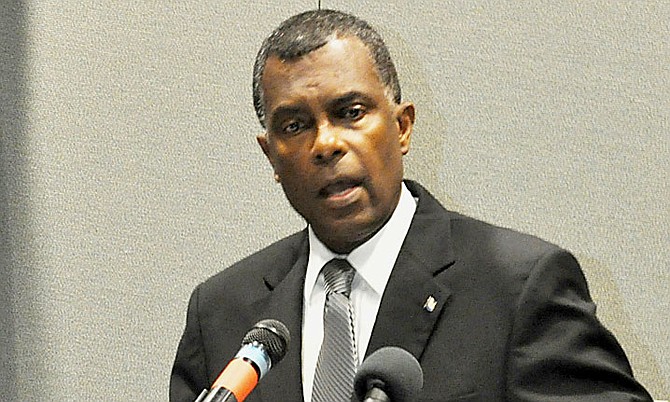 By Morgan Adderley
Tribune Staff Reporter
madderley@tribunemedia.net
PROGRESSIVE Liberal Party Chairman Fred Mitchell criticised the management of the Fox Hill Community Centre in an open letter to his former constituents on Wednesday.
In the letter, the former area MP claims the Centre has been without electricity for four months and also referred to a leasing dispute with the property.
"The Government I am advised has reneged on its original agreement to conduct certain of its social programmes on anti-violence in the facility," the letter read.
"The Government had agreed that they would pay the utility bills, the management and staff. The Government has only partially fulfilled those commitments."
Mr Mitchell, who referred to himself as the "PLP Caretaker for the Fox Hill", reaffirmed the centre was a private facility and not for profit corporation, with an independent Board of Directors.
He suggested if the government has reneged on commitments to lease space of specific programmes, then the board could sever ties with the government.
Mr Mitchell seemed to be referring to reports by Deputy Prime Minister Peter Turnquest earlier this month that the former PLP government "handcuffed" the current administration by entering into multi-million dollar leases for properties that have never been used.
Mr Turnquest cited the Fox Hill Community Centre among these, saying in the six months to end-December 2017; the government paid $3.8 million in outstanding bills for the Centre.
The Finance minister added an additional $11.4 million is still owed for the Centre.
In his letter, Mr Mitchell reiterated that the Centre is "certainly free and clear" and has "no mortgage".
"It is a gift to the people of Fox Hill who after their contributions to this society deserve a magnificent gift. Fox Hill is still the repository of African culture in our country."
Mr Mitchell noted that it is an MP's responsibility to assist constituents.
He added: "You do not complain about what others have not done; you try and do for yourself.
"You leave a legacy for yourself. I tried to do that. The Fox Hill Community Centre is a proud legacy to that effort on my part, without equal."
"Young, poor black boys and girls have a facility that is theirs and their elders have the responsibility to ensure that it remains independent and is not usurped by politicians who are 'begrudgeful' and lack vision."
Mr Mitchell also emphasized that if he were the Fox Hill MP, the Centre's power would not have ever been disconnected and certainly not off for four months.
He continued: "The fact that the power is not back on in the face of a clear Government commitment to pay for the power, speaks volumes about representation, without the PLP having to say one word about anything these people have said in the House of Assembly.
"The facts speak for themselves."
"My warmest regards to the people of Fox Hill and especially to the little children for whom the facility was built."
"Your government now the FNM may despise you but that building - the Fox Hill Community Centre - is evidence that the PLP loved you and we continue to do so."