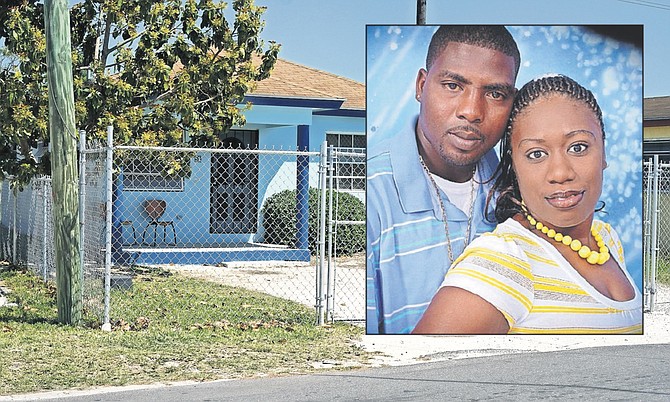 By KHRISNA RUSSELL
Deputy Chief Reporter
krussell@tribunemedia.net
A MAN shot and killed his wife before fatally turning a weapon on himself in an apparent murder suicide in the home they shared at Yellow Elder Gardens early yesterday morning.
While police have not released their identities, The Tribune can confirm they are Shawn and Nicola Bethel. They were both government employees and the parents of three children.
The incident sent shock waves rippling through the community, with neighbours telling this newspaper the street – West Dennis Court – where the family lived for about ten years was usually peaceful and without incident.
The children were said to be in the home when the incident happened. The woman's death marked the 22nd homicide for the year, according to The Tribune's records.
"The only thing we know is there was screaming and crying," one resident who lives near the couple's home said yesterday. "There was a party last night, so the music was loud so we didn't hear the shots or the arguing. But we heard the screams and crying.
"They didn't have any problems," the neighbour continued. "They weren't the type of couple to be fighting in the road and rowing for you to say this would happen to them. They seemed loving."
Another neighbour said: "This is just a tragedy man. I mean they were hard working and loving. He was so helpful and he brought us the garbage bins and made sure the garbage was always empty. He don't care how you offer him money, he would not take it.
"One night my husband (car) broke down and he came and I told him and his only response was 'where is he?' And he jump right back in his car and went to him. That's just the kind of person he was.
"We are just surprised at this."
Neighbours told The Tribune shortly after midnight, relatives reportedly arrived at the home with the hopes of mediating an argument between the couple.
While they believed the situation was diffused, the relatives were leaving the home when they heard the first gun shot, which allegedly killed Mrs Bethel, neighbours claimed.
Moments later, police arrived to find Mr Bethel in the kitchen of the home with a gun pointed upward and under his chin when he pulled the trigger and took his own life, neighbours further claimed.
However police gave a slightly different account, but said they were investigating a murder suicide.
"Shortly before 2am, police officers were called to a home on West Dennis Court, Yellow Elder Gardens, after it was reported that a male was there armed with a firearm. As officers approached the home, they heard gun shots coming from inside the house.
"Officers entered the home and discovered a male and female in an unresponsive state, with apparent gunshot injuries. Paramedics were called to the scene, but were unsuccessful in their attempts to revive the victims. They were pronounced dead at the scene," police reports said.
Meanwhile, condolences from friends and family flooded Mrs Bethel's Facebook page yesterday.
"When I heard I could not believe it," one person wrote. "We all loved you but Jesus loves you best. Will be praying for your children and family. So sorry."
"We started our journey in the public service together from Airport Maintenance (MOW) to Solid Waste Management (DEHS)," another friend wrote. "Then we got separated but we stayed in contact our kids became a part of the Rangers programme so our connection was still in place. Lord a rose has now entered your garden. Nicky, we love you RIP."
Police are appealing to anyone with information regarding this incident or any crime, no matter how small or insignificant the tip may seem, to anonymously call police at 919 or Crime Stoppers at 328-8477 in New Providence or 1-242-300-8477 in the Family Islands.