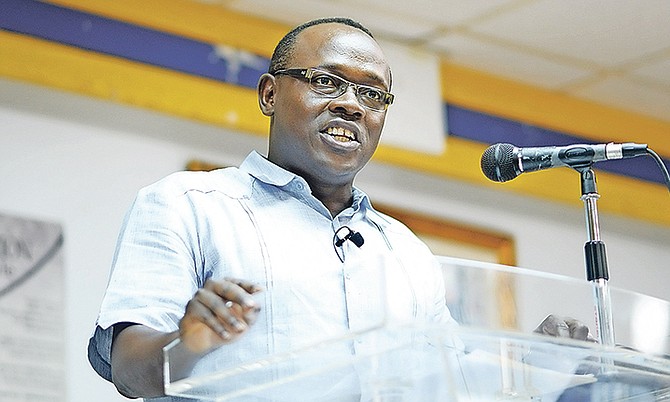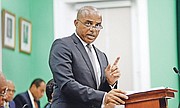 By KHRISNA RUSSELL
Deputy Chief Reporter
krussell@tribunemedia.net
NATIONAL Security Minister Marvin Dames said he hopes Progressive Liberal Party Deputy Leader Chester Cooper is not wasting the police's time with his pledge to contact them about comments made by Prime Minister Dr Hubert Minnis this week.
Mr Dames branded the matter as "garbage" – the kind of "petty politics" of which Bahamians are tired.
On Monday, Mr Cooper said he was compelled to report to police Dr Minnis' warning that he should "be careful" in response to the Exuma and Ragged Island MP's calls for the prime minister to resign for "misleading" Bahamians on the Oban Energies project planned for Grand Bahama.
Dr Minnis did not explain what he meant when he warned Mr Cooper to be careful.
Asked by The Tribune if he believed the threat to go to the police was a part of a political game by Mr Cooper, Mr Dames said: "If he feels that he has a legitimate complaint then he is citizen, he can make it.
"But I hope he is not wasting the police time because police have so much more to be focused on."
Earlier in his interview with reporters, Mr Dames said: "I don't know the full extent of the complaint or his concerns, but I would say that one of the things that I try to do as a neophyte in this business is to rise above the fray of political antics.
"It's nonsense and the Bahamian people are sick and tired of it.
"It's time for all of us as politicians no matter which side of the fence we sit to get to business and do the people's work. I am not going to play those games. I have a focus I will stick to. That focus is working together with my ministry and all of the agencies involved and all of the departments and other ministries involved along with the Bahamian people in reducing the level of crime in this country.
"We need to get people back to work. We need to improve our educational standards in this country. We need to improve the health system. We need to improve the economy and these are the things our politicians need to be focusing on.
"All of this garbage and petty politics needs to be a thing of the past. One of the commitments I made before coming into politics is that I will try to stay away from that."
As he was responding to questions on Monday from reporters about concerns expressed by Centreville MP Reece Chipman, who was recently fired as chairman of the Antiquities, Monuments and Museums Corporation, Dr Minnis said: "I spoke to the Oban issue in Parliament. I was very, very thorough with what I said and every now and again the PLP throw lil' daggers at me. I would only say to them be careful. Be careful, don't throw.
"I tell him be careful too," he said specifically in response to Mr Cooper, who on Saturday had called for Dr Minnis to resign over the Oban controversy.
Mr Cooper later issued a statement questioning if the prime minister's words were a threat.
"I hope the prime minister's words do not constitute any threat. However, out of an abundance of caution, I feel compelled to report this matter to the police," he said.