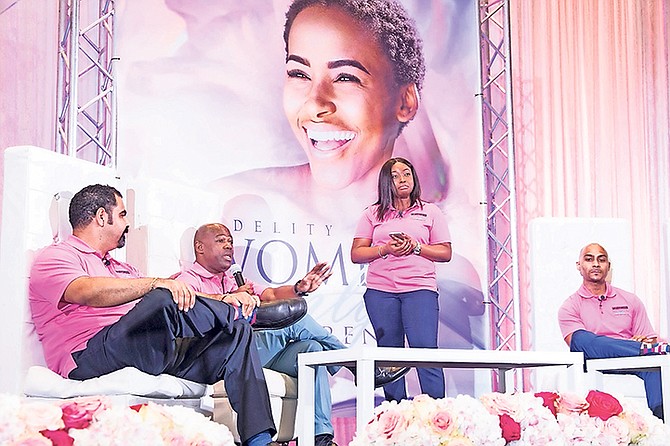 Nearly 1,200 women attended Fidelity's Women Only Seminar that was held last Saturday at the Baha Mar Convention Centre.
Under the theme "The Truth, the Whole Truth and Nothing but the Truth", seminar guests were given practical advice on money management as well as relationships with men and children. They also received insight from an all-male panel under the topic "What Women Should Know About Men and Money - The Male Perspective".
Janice Rolle, senior financial centre manager, said the bank is passionate about serving the community it resides in.
"The reason Fidelity Bank hosts Women Only is to help improve women's lives," she said. "Women's empowerment has been proven to positively impact the home, the community and even the workplace. However, this impact is often taken for granted. Women Only provides a platform for women to not only grow as individuals, but to also learn from each other through the presentations and networking opportunities provided."
The seminar presenters' were members of Fidelity's executive and senior management team. Guest Speakers included Dr Michelle Major, clinical director of the Caribbean Centre for Child Development and Sharmaine Sinclair, assistant director in the Ministry of Education. They doled out advice for women without children on how to use their time and talents, as well as on the 10 most common mistakes women make with money, and how to improve your relationship with your children.
The Women Only Seminar is intended to supplement the free personal financial coaching and life enhancement seminars offered by the bank with the objective of giving sound, practical advice and the financial tools needed to achieve lasting success in managing money, careers and relationships.
Fidelity will be hosting the seminar in Freeport, Grand Bahama on Saturday, June 9.